Boys Varsity Basketball Team Ready to Endure Long Season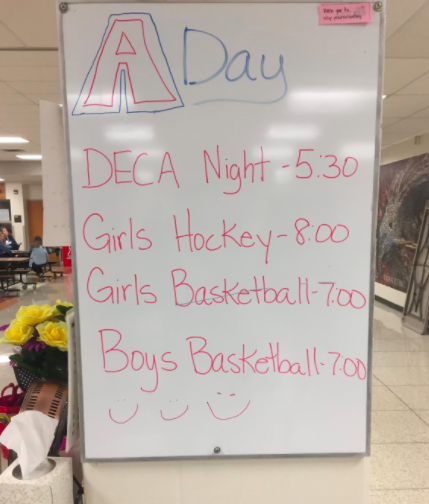 Hang on for a minute...we're trying to find some more stories you might like.
The Arrowhead Boys Basketball team won against Milwaukee Riverside last Friday with a score of 81-72, a game that was played at Milwaukee Riverside.
This Friday, the Warhawks play Kettle Moraine at Arrowhead to kick off the December games. Both teams will come into the game at 1-0 looking to improve to 2-0 on the year. This game will be big for both the Warhawks and the Lasers and will determine who has the early edge on the chance for a Classic 8 Conference championship. After that Friday night game, they play on Saturday night at Wisconsin Lutheran High school at 7:00 against the Vikings, who are 0-1 at the time, to wrap up the week.
The recent addition of Oconomowoc expanded the Classic 8 conference to nine total teams. The Warhawks play Oconomowoc the following friday at Oconomowoc High School. Oconomowoc just recently beat Kettle Moraine for their first win of the season.
The Arrowhead Warhawks starting lineup is brand new, set apart from last years five  seniors who started the game. This year the lineup consists of Tyler Gouin, a junior, starting at point guard. At shooting guard, is senior Aleck Sharma along with senior Chandler Pulvermacher starting at small forward. The power forward starting is Carter Gilmore, a sophomore and senior Jonathan Chycinski starting at power forward.
Senior Ty Roznowski said, "I hope they do well again this year…I feel like this team has a decent chance to make a run in the playoffs again."
Senior Tyler Gouin said, "My goal this year is to go at least through the third round of the playoffs, but hopefully we can get a shot at state.
Will Riplinger said, " I think they will go as far as the second round in the playoffs this year"
The boys basketball team is determined to win, no matter who is playing and what their schedule looks like. An example of this is according to the boys basketball web page, they have two program goals:
"1. To develop boys into successful young men by demanding that their actions and attitudes reflect the concepts of our program.
2. To develop sound basketball players by the daily commitment to discipline and our defensive fundamentals."
Not only do they have program goes but they have 3 statements on their mission as a basketball team and as a program in general.
Mission:
1. To teach the fundamentals of our defense and offense.
2. To accept our role in the program and be willing to make our program the best.
3. To make sure that we are prepared.
If the players and staff follow all these goals and missions correctly, the Warhawks should be set for another successful season.