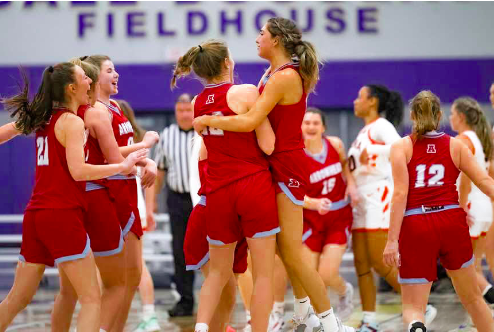 This week the Arrowhead Girls Basketball season kicks off. From November 6th-7th, Girls Basketball tryouts were held for Varsity, Junior Varsity, and Freshman teams. 
The parent and athlete meeting for all Girl's Basketball teams was on Wednesday, November 8th, as well as all teams starting practices. 
This year the coaches for Varsity are Ron Reichle (Head Coach), Molly Kielma (Assistant Coach), Steven Reinhardt (Assistant Coach), and Cheryl Bonlender (Assistant Coach). 
Junior Varsity is coached by Warren Bub and Doug Drenzek.
The season will officially kick off with Varsity and Junior Varsity scrimmage games on Saturday, November 11th at 8 a.m. 
Other important dates in the calendar are Girls Basketball Picture Day on Wednesday, November 15th and Girls Basketball Parent Night on Saturday, November 18th. 
Last season the Arrowhead Girls Basketball Varsity team had a record of 23-5 overall with a win percentage of 0.82% and went 11-4 in the Classic 8 Conference, earning them 3rd place. 
Senior Abby Robel says, "I think we have a lot of potential. We have some of the best underclassmen in the state and we have people who know how to play their roles well. We have all the tools we need to succeed."
Returning members from last years Varsity team include: Erica Bub, Abby Robel, Presly Samz, Natalie Kussow, Libby Gilmore, and Teresa Kescenovitz.
Senior Taylor Thimmesch says, "I am looking forward to the pasta parties, the bus rides back from games where we blast music and sing, and being apart of a team that could do something special this season."
During the 2022-23 season, Freshman Natalie Kussow led the team in points per game with 18.1, while Freshman Libby Gilmore led in rebounds per game with 6.9. 
According to WISports, the Varsity Girls outscored their opponents by the end of the first half 797-557, by the end of the second half 1063-729, and in total 1860-1286. 
Robel says, "I think we have improved on not settling for okay shots and working until we can find the best opportunity to score."
Varsity's first game will be on Saturday, November 18th versus Oshkosh West at 7:00 p.m at Arrowhead High School in the East Gym. 
Senior Erica Bub says, "I think [the season] will go really well and be very interesting to see play out."