Christina Grimmie Dies After Orlando Concert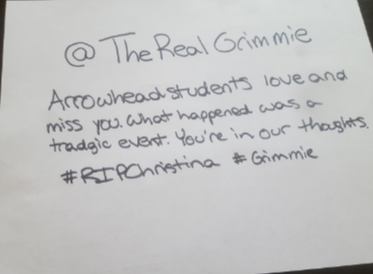 Around 10:30 pm on June 11, 2016, in Orlando, Florida, singer Christina Grimmie, 22, was fatally shot while signing autographs after a concert at the Plaza Live.
According to "Orlando police ID man who killed 'Voice' singer Christina Grimmie" by Boris Sanchez, Ralph Ellis, Joe Sutton and Azadeh Ansari, CNN, Orlando police identified the killer as Kevin James Loibl, 27, of St. Petersburg, Florida. After Grimmie's concert with the band Before You Exit, she did a meet and greet.
Approximately 120 people were left in the venue when Loibl opened gunfire, shooting Grimmie and a fan. Almost immediately after Grimmie was shot, her brother Marcus tackled the shooter, saving many more lives, said police. Shortly thereafter, the Loibl killed himself.
Police found that Loibl was carrying two handguns, as well as two more loaded magazines for the handgun, and a large hunting knife. He used a small caliber handgun to shoot Grimmie. Grimmie was rushed to the hospital, but died shortly after arriving.
Later on June 11, her brother Marcus took to FaceBook saying, "Christina was more than my sister. She was a partner in life. A superstar. A goofball. Introverted. And a friend to everyone. Genuinely. But above all…she was my baby sister."
Officers are still unable to determine the connection between Grimmie and Loibl, or the motive behind the crime. At first, it was suspected that he was a deranged fan or an ex-boyfriend, but there is no evidence to suggest either theory is true. It appears that the two had no real personal connection until Loibl rented a car, traveled 100 miles to the Plaza Live, and shotGrimmie.
Authorities have reason to believe Loibl intended to return home after shooting Grimmie. Loibl left little trace online, and so it is unknown whether or not he was a stalker.
Grimmie was loved by many; a group of girls that were at the Orlando concert formed a prayer circle on Saturday night for Grimmie. Friend and fellow singer Selena Gomez mourned Grimmie, and Gomez's stepfather even created a Go Fund Me account in honor of Grimmie, to help support her family. Thus far $181,201 have been raised.
As Arrowhead junior Isabella Wartzenluft says, "As a child, I never understood the concept of looking up to a celebrity. I never saw myself as someone who would have an idol known by many, that is, until Christina. I started watching Christina's YouTube videos in 2010. She immediately had an impact on my life. Her voice is so powerful, her personality even more incredible…She made me feel accepted, happy…On June 11th, I woke up to find that she had died. I did not believe it at first, it seemed so surreal."
Reagan Zimmerman, a junior at Arrowhead, says, "I think that it is horrible that Christina Grimmie was shot…She wasn't harming anyone, yet her life was taken by a sick individual anyways."
Zimmerman admits she was not a fan, yet, "This is the second time in the past year that someone in the world has created havoc at a concert [the shootings in Paris at the concert hall in November]. Luckily, this time, no one else was harmed, but it's just a shame that someone felt the need to murder…I can only think one thing: what has the world come to?"
According to John Tesh, some concert safety tips are as follows; go in a group. There's safety in numbers, and so tesh recommends attending a concert with at least one friend. He also recommends picking a spot away from the venue for the group to meet up in case of an emergency.
He also says to note the layout of the venue, making sure to know if it's round or rectangular, if the floors slope, or if rain would make for a slippery walk. Finally, it's important to note where all the exits are, not just the closest exit. In emergencies the closest exits are not always the quickest.
Some Arrowhead students' attitudes have not changed towards concert safety, however. Junior Isabella Wartzenluft says, "I am not as concerned about concert safety as I am about the overall gun laws in this country. That is something I believe needs to change. Concerts are a place that I have always felt safe, and though this terrified me, I will continue to act the same at concerts, because I hope to uphold the good atmosphere."
There are also those whose opinions of concert safety have slightly changed. Junior Brandon Stoller says, "I try not to worry about something like that happening at a concert. I think worrying about what might happen to you is extra stress."