AHS Girls Basketball Defeats Mukwonago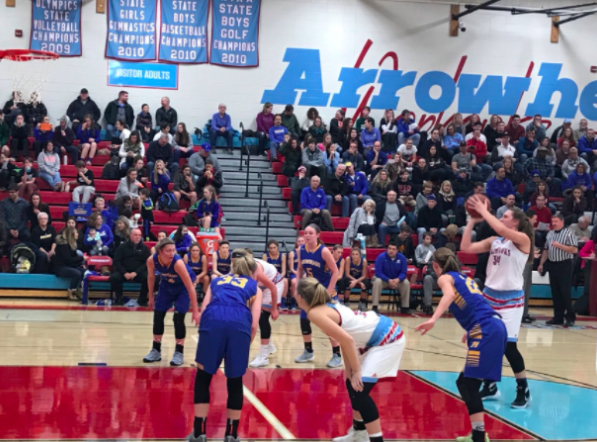 Hang on for a minute...we're trying to find some more stories you might like.
On Friday, January 5th, Arrowhead Varsity Girls Basketball took home the win against Mukwonago in a two point game (47-49). The conference game took place at Arrowhead.
Arrowhead's record this season is nine wins and one loss and Muskego's record is 8 and 2.
As tweeted by the 2018 gators (@AHSGators2018), the theme for the game was white out. According to students who were at the game, the student section was nearly filled to the top.
Grand Valley State commit and AHS senior Megan Peterson served as the shooting guard on the court.
"We started off the game with an almost 10 point lead at half time," she says. "It was 20-11. I think we all knew we had to work and play harder if we wanted to win. Sure enough, Mukwonago came back and played with what seemed like an entirely different mentality."
According to Maxpreps.com, in the history of girls basketball, Arrowhead has beat Mukwonago 12 out of the 18 times played.
Arrowhead senior and varsity Lacrosse player Aly Ells said she attended the game with her friends.
"There were like 10 seconds left in the game we were up by two at the end. It was their ball, and they got a shot off. We were all holding our breaths. It was so scary," Ells says. "Caitlyn came in and blocked it, and we all cheered so loud."
6'1" senior Caitlyn Harper has a PPG (average points per game) of 15.5, according to www.wissports.net.
Harper committed to California Baptist University to play division one basketball this past October. She plays as a center on Arrowhead's team.
Harper says, "I've been playing basketball since I was in elementary school. My dad was always my coach. He is extremely happy that I will be continuing playing in college, and California gives him a really good place to visit me too."
The girls will be playing again on Friday, January 12th, at 7:00 pm at Muskego.