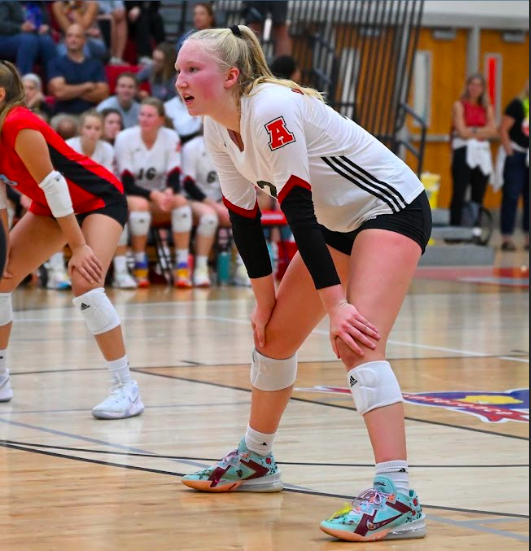 This season, the Arrowhead Warhawks Girls Volleyball program is lead by Coach Janelle Jaquish is 11-7 overall and 2-1 in the Classic 8 Conference. One standout player who is already committed to continuing her athletic and academic journey at College of Holy Cross is Senior OH Gabby Wold. 
According to SportsRescuits.com, Wold is "strongest as an outside hitter but consider[s]…[herself] a utility player."
According to MaxPreps, last season Wold was ranked #6 in the Classic 8 Conference for kills and had a hitting percentage of 0.138 which ranked her #25 in the conference.
Jaquish says, "She scores a ton of points by swinging away on the outside. She also has a nice toolbox and can mix in a variety of shots to keep the other teams on their toes."  
Wold, who announced her commitment to College of Holy Cross via Instagram on April 23rd, 2023, says "I never thought Holy Cross would be the place I wanted to commit, but once I went on my visit I fell in love with it."
College of Holy Cross is located in Worchester, Massachusetts, and is a member of the Patriot League, an NCAA Division I conference. The college houses 27 D1 teams, 13 men's teams and 14 women's teams.  
Wold has played club volleyball for the past 12 years at Milwaukee Sting, located in Menomonee Falls. 
According to Milwaukee Sting, Wold's team—17 Black—were ranked #4 in the region and #202 nationally. 
She says, "They really focus on perfecting players' techniques and…getting the opportunity to play against the top clubs in the country has helped improve my [game]." 
In the USA Girls Junior National Championship, 17 Black placed 13th out of 64 in the 17 American Division.
Jaquish says, "the big difference from Gabby in her freshman year to now is she has a much better mindset while playing. She is able to not let mistakes affect her as much as they used to and her teammates look to her as a confident leader on the court." 
Looking to finish her last highschool season strong, Wold says, "I'm excited to be playing with my sister this year…it's been so fun getting sets from her."