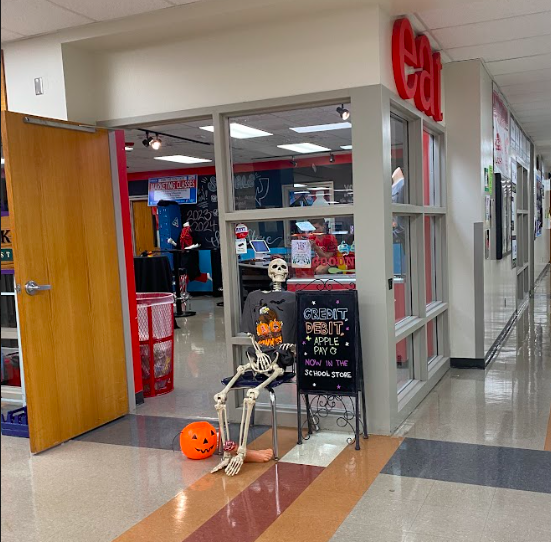 The Warhawk Trading Post, located in the North campus commons, is run by DECA students and sells a variety of snacks and clothing. According to the Arrowhead website, it is open weekdays 7:15 am – 3:00 pm, except for Wednesdays when the store closes at 2:30 pm. 
According to the Arrowhead website, "DECA is a student organization of marketing and entrepreneurship students. It is a basic component of a Marketing Education program."
Freshmen interested in being a part of DECA must take Introduction to Business. Students in grades 10-12 must be enrolled in any business or marketing course. 
Recently, the 2023 Hawksfest t-shirt was added to the store. The shirt is gray and has Halloween themed designs, like ghosts, pumpkins, and spider webs. It is available for $15 and can be paid for with card, Venmo or Apple pay.
Hawksfest is an annual festival presented by AHS DECA and marketing students. This year's theme is Halloween Hawksfest and takes place Friday, October 6th from 4:00 pm to 8:00 pm. Hawksfest consists of rides, carnival games, face painting, and local vendors. 
Students can use the store to buy food, school supplies, and spirit wear as well as relax on the chairs and tables set up there or to watch sports or play games on the TV. 
Senior Emma Danes says, "I use it during school now but sophomore year I used it all the time after school."
The snacks available include Reese's pieces, Laffy Taffy, Smarties, Tootsie Rolls, AirHeads, and popsicles. The prices range from 50 cents to three dollars. 
"A lot of people get popsicles but I think they are overpriced," says junior Nicole Rivard.
The Fro-yo costs $3.50 and includes one topping like M&M's, gummy worms, sour candies, and chocolate chips. Extra toppings cost one dollar. 
"Sophomore year we went every day after school before swim practice and would buy Fro-yo," says Danes.
Some of the frozen yogurt flavors currently available are chocolate, cake batter, toasted marshmallow, apple pie, and cookie monster. 
"Sometimes I go, just for getting food … and Fro-yo. Their Fro-yo is so good," says senior Emily Biwer.