AHS Staff and Students Remember Service Dog Abby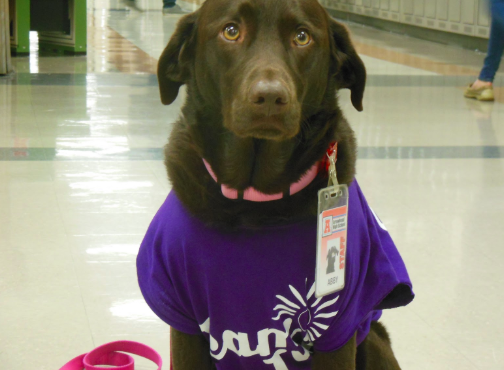 Former Arrowhead therapy dog Abby passed away recently, and Arrowhead staff is working to honor her service and comments to the staff and students.Abby worked with Arrowhead staff and students for over five years prior to her passing.
Former Arrowhead counselor and owner of Abby, Mike Ward, notified Arrowhead staff though Counselor Thomas Stuber, of her passing. According to Stuber, the chocolate Labrador retriever was nine-years-old at her passing, and she had been a service dog since she was 17 months old.
Abby was certified at the American Kennel Club at two years of age and at three, she obtained international certifications.
Stuber said Abby helped volunteered at Arrowhead for over five years and because of her frequency at the school, she even had her own staff ID badge. Stuber said Abby loved to play hide and seek with students and enjoy their company.
"She started simply meeting with students and in some cases listening to them read books as a therapy. She then expanded her work to libraries, hospitals, nursing," said Stuber.
Abby was known to also make special hospital visits to Arrowhead students and had been at the bedside of Arrowhead students when they were in the hospital.  
To honor Abby Stuber says, "There will be memorial plaques on display in the offices at both North and South Campus to remember Abby and her contributions to the Arrowhead Community."
"Abby was a great dog and I will never forget the first time I met her freshman year, she will be ," said Arrowhead senior Addie Siepman.