TREND ALERT: New Balance shoes back in fashion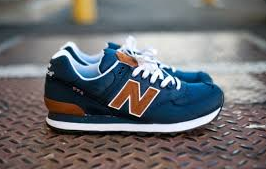 It is time to say goodbye to your high-heels and hello to  something comfortable and functional. The sneaker culture is spreading to the world of fashion. Recently, celebrities such as Alexa Chung and Rihanna have been spotted sporting the Retro New Balance sneakers.
Many people are buying and wearing sneakers as a fashion statement instead of for the gym.
New Balance Classic sneakers come in many colors including Corn flower/Laza Rite, Arctic Blue/Dragonfly, Silver Mink/Limeade, Grey/Red Textile, and Neon Pop.
Orange sneakers can make your outfit pop if you are wearing all black. Another stunning look would be a navy blue cable knit sweater, ripped jean skirt and blue and green color blocked New Balance sneakers. You could even wear an orange sweater, dark jeans, and match with white New Balance Classics with orange detailing on them. The color combinations are endless as there are also custom options. You can pick different colors of the actual shoe, the sole color, laces, as well as the tongue of the shoe. These shoes will be able to be worn with this spring and upcoming summer's clothing.
These shoes can be purchased on Zappos, Amazon, and the New Balance website. Depending on how deep you customization goes, the New Balance Classics range in price from $65- $150.
Senior Hattie Salzman commented on the comeback of New Balance shoes. "I think it's super cool that New Balance shoes are coming back. I just got a pair of retro-ish shoes from Adidas and now I want a pair of the New Balance ones too. My favorite looking ones are the white with the gold accents."
Senior Ashlyn Seckinger also commented. "I love the look of the New Balance shoes. I already ordered a pair for the spring. I think that they will look good with a lot of  my clothes already. Once people start noticing this trend more and more people will want to start wearing them."