Warhawk Manufacturing Site Hosts Halloween Sale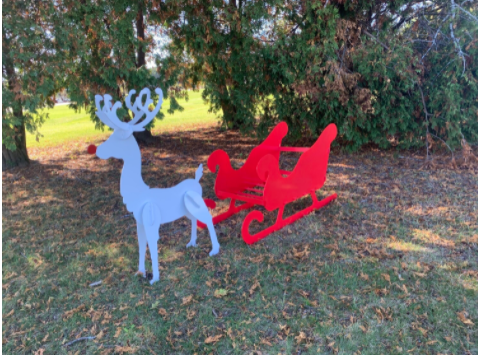 At Arrowhead, the manufacturing class creates decorations, keychains, and other finds, some of which are sold online and can be found here at their website. In the weeks leading up to Halloween, the site has been hosting a Halloween sale, paired with a winter sale. Each sale has their own relative decorations to display in front of the house, or even inside.
The Halloween sale displays seven pieces, each created uniquely and forty dollars tops. Most of them are colored silhouettes to put in a yard, and the last unique one is a spider-shaped pumpkin stand to display a fine carving. The cheapest pieces lay at fifteen dollars, but each is complete with a sleek and smooth finish.
The winter sale hosts four pieces, which are $150 dollars tops–yet these pieces are large ones.
According to the website, the "reindeer is 22 1/2 inches long, 9 inches wide, and 40 1/2 inches tall," while the sleigh is "19 inches wide, 45 inches long, and 25 inches tall." The two pieces, in one image, appear to be a set.
The more expensive pieces in the collection are a white reindeer with a red nose and a red sleigh, which are 100 and 150 dollars respectively. These two pieces boast a very detailed cutout and a three-dimensional touch.
Each piece is made by a student or multiple students in the manufacturing department of Arrowhead.