Thailand Culture Experienced by AHS Students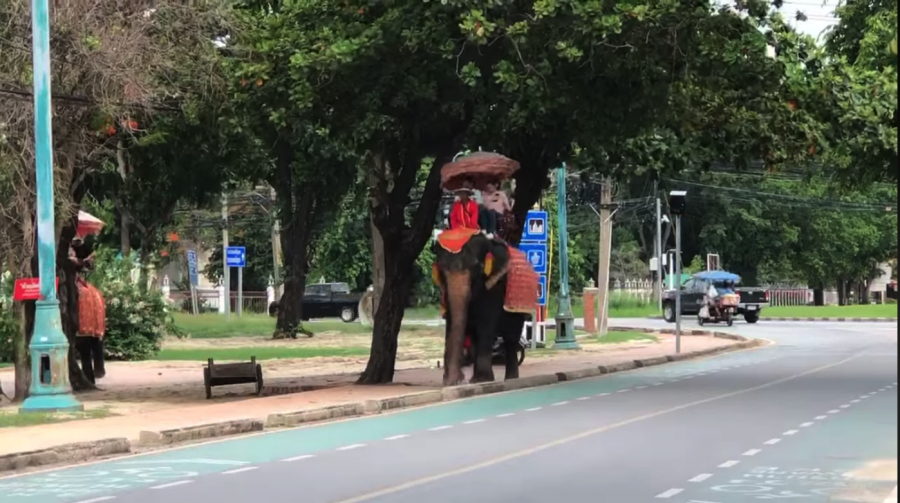 At the end of June. thirty Arrowhead students and four chaperones spent four days of their ten-day Thailand service trip sightseeing and being immersed in Chiang Mai and Bangkok culture. In both cities, the Arrowhead students toured Buddhist temples and ancient ruins, experienced Thai food and dance and shopped at open-air markets using Bhat money. 
While in Chiang Mai, the students spent a day at the Maetaeng Elephant Nature Park getting close with Asian elephants. There were no barriers to the elephants and the students were able to stand next to them, touch their skin and feed the elephants watermelon out of their hands. 
Kendra Kloth, Arrowhead student said, "The Elephant Sanctuary was an amazing experience, being able to be with these animals and learn their stories (where they came from, what they have been through) really tugged at my heart strings."
The next day while still in Chiang Mai, the students visited the Wat Phra Doi Suthep Buddhist temple,located on a mountain overlooking the city, where they observed paying and chanting by Buddhist monks. The students later went to dinner at a restaurant with the Chiang Mai locals and experienced sitting cross legged on cushions while eating dinner on the floor and being entertained by women in Thai costumes dancing on a center stage..
The last two days of the Thailand trip were spent in Bangkok touring more Buddhist temples and traveling between temples riding in a Tuk Tuk, an auto rickshaw. The Arrowhead students also experienced a boat ride across the Chao Phraya river and toured the Temple of the Reclining Buddha. They later visited Wat Sraket temple, Ayutthaya (Siamese Kingdom ruins 1350-1767), and the Summer Palace of King Rama which is a national heritage site.
Arrowhead student, Emma Vorpagel said, "The sight seeing was phenomenal, we got to see some amazing things that I never would have dreamt of."
Chris Herriott, Arrowhead teacher and chaperone, posted videos from Bangkok on the Facebook Thailand Service trip page. One video showed Tuk Tuk's driving down the streets of Bangkok, which the students rode in to sightsee different temples. Another video showed monks kneeling at a Buddhist temple while you heard them praying and chanting. A different video showed a busy street with cars and Tuk Tuk's going fast while on the sidewalk, a man slowly led an Asian  elephant with a woman passenger sitting on top holding a red parasol; such a contrast in modes of transportation.
After returning home from the Thailand service trip Herriot said, "During our travels through Bangkok and Chiang Mai, we were led by incredible Thai guides that exposed us to the culture of Thailand in a way we could never have done on our own. Our trips to multiple temples, ranging from currently active to hundreds of years old, gave us a greater appreciation for the immensely rich history found in South East Asia."