Arrowhead Students Invited to German Shepherd Club Events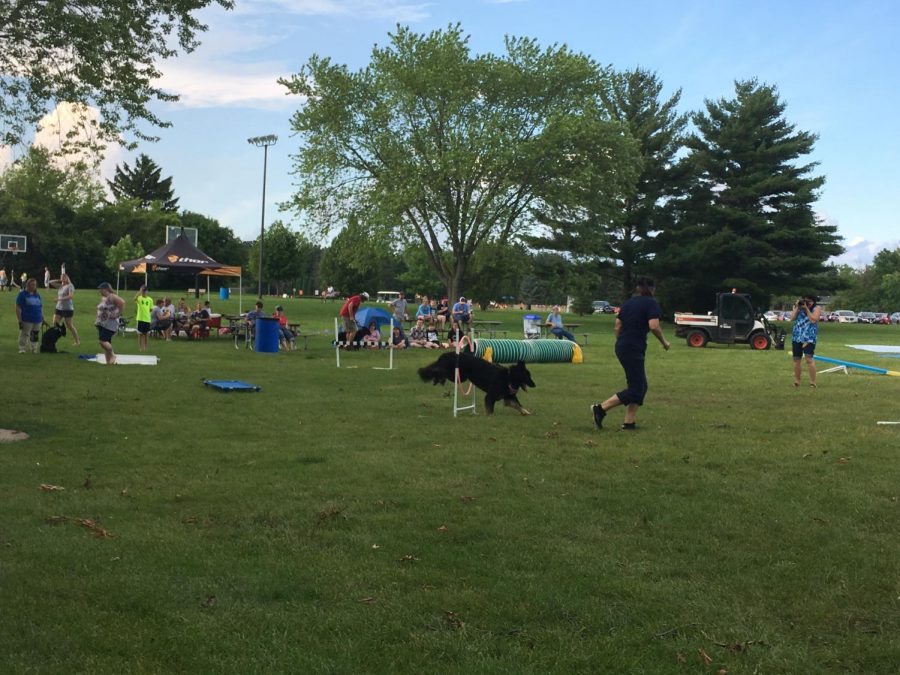 The German Shepherd Dog Club of Wisconsin (GSDCW) located in Big Bend, WI held a German Shepard demonstration on July 4th from 4-5 pm at Malone Park in New Berlin. The demonstration gave the four month to 12-year-old dogs experience performing in front of an audience. 
The demonstration gave the owners and dogs a chance to show their skills that they'd been practicing in classes. The dogs showed obedience to verbal commands, walking in a circle, and showing attention to their owners. German Shepherds at the advanced level and trained in agility, were off the leash and ran an obstacle course consisting of hoops, jumps of two feet, a seesaw, weaving poles, and a tunnel. Dog treats were used for motivation and praise of completed tasks.
Donna Rickert, owner of Keiara, a seven-year-old black German Shepherd said, "The two most important aspects of successful training are patience and praise." When I asked about Keira's training, she replied, "It took one year of training for Keiara to run the obstacle course on command. Keiara is now titled in Agility." 
The GSDCW website provided detailed information on Agility. Agility began in England in 1978 and is now the fastest growing dog sport in the United States. There are two types of agility classes, Standard Class which includes obstacles such as the dog walk, A-frame and seesaw and Jumpers with Weaves Class which only has jumps, weave poles and tunnels. Both classes offer increasing levels of difficulty. Competition in Agility consists of an agility team, dog and dog handler running an obstacle course designed by the judge. They divide the classes by jump heights to allow for different size of the dogs to make it a fair competition.
Steve Hubacek, owner of Bearon, a two-year-old German Shepherd said, "I got him when he was eight months old and he has been training for about one year. Bearon is in the beginning stages of learning skills."  Hubacek later said, "German Shepherds are very loyal to their owners and very affectionate." 
According to the GSDCW website, the club was founded in 1947 by "33 German Shepard enthusiasts to promote interest in the breed and to train people how to properly train German Shepherd Dogs." The club owns training ground where American Kennel Club (AKC) holds shows, obedience trials, and agility trials.
Paulette Gallatin is in charge of GSDCW membership and has invited Arrowhead students to watch the training of the dogs, there is no charge to observe. According to the GSDCW website, "Guests are welcome to visit the club to watch training classes and to talk with members about the German Shepherd Dog."  Paulette said, the Sunday 12n to 12:45 pm "puppy class would be fun for the students to watch." The German Shepherd Dog Club of Wisconsin is located at W224 S6950 Guthrie Dr., Big Bend, WI  53103 which is off I-43 southwest of Milwaukee between Racine Avenue and SR-164. For more information about the German Shepherd Dog Club of Wisconsin, go to http://gsdcw.com/.