Arrowhead Students Awarded by the Wisconsin Writers Association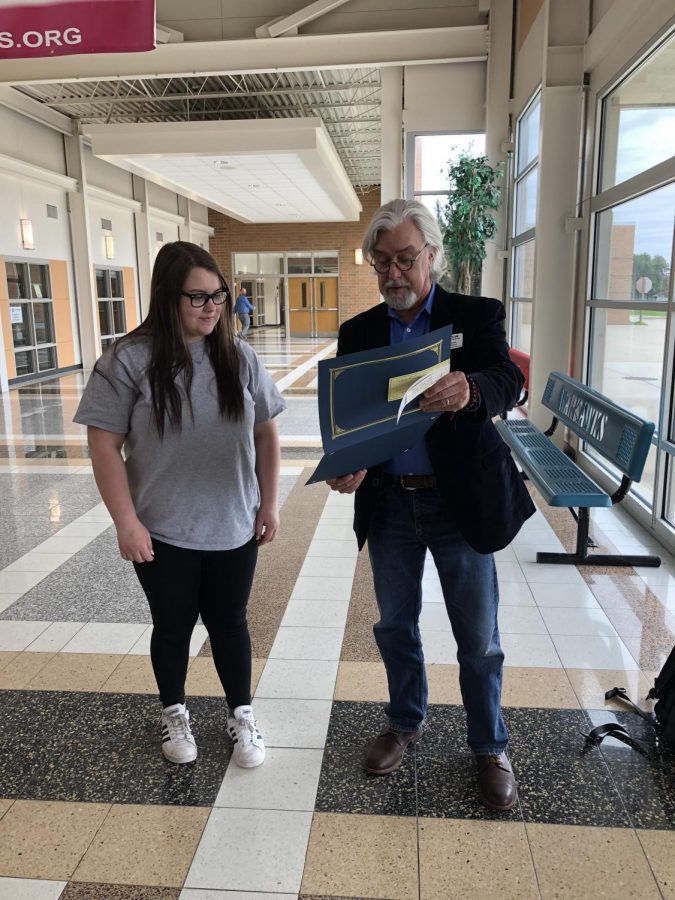 The first ever Wisconsin Writers Association contest was open to all junior and senior students attending public schools in Wisconsin. Entries could have up to 1,500 words and had to be submitted by Friday, March 1, 2019, in both nonfiction and fiction categories.
The top entries in each category received monetary rewards. First place students received $75, second place received $50, and third place received $25.
Arrowhead seniors Emily Elfner, Nicole Larson, and Rachel Kriehn won first, second, and second place, respectively. Arrowhead juniors Jordan Gravelle and Joanna Wahmhoff both won third place.
"In Creative Writing, I shared this competition with my students," English teacher Elizabeth Jorgensen says. "I asked students to consider submitting their favorite essay. Students chose if they wanted to submit and which piece they thought was best suited for the competition."
In a press release—"Wisconsin Student Writers Win Statewide Honors"—Jackie Granger, WWA Member and Program Chair of the Youth Committee Member was quoted: "Student writing is so important. Any time a young person creates a story or an essay, whatever it is, she or he reaches deep inside, going somewhere new and unexpected. It's a kind of creative magic that occurs in the mind. Such a lovely thing. We're so pleased to encourage young writers."
Elfner's winning piece was about her experience tasting a Spanish tortilla prepared by her host family. The judges' said this about her entry: "The author includes vivid description of the Spanish tortilla in a compelling scene that captures the cultural experiences."
Here is an excerpt:
José gasps. "The Spanish tortilla is so much more than just an omelette." I regard the dish again. It looks simple. Slight burns swirl across the surface of the bright yellow eggs like foam over a breaking ocean wave. A sheen of olive oil glistens over the dish. Corners of potatoes poke through, giving the top texture. The plate gives off the aroma of fried eggs with an added savory touch.
"Well, go on," Iraide urges. "It'll be your first taste of the best cuisine in the world."
I gently lift a slice of the fragile tortilla onto my plate.
The family watches expectantly as I take my first bite. A flavor combination of potatoes, eggs, and onions dance over my taste buds in a way I have never experienced. An expression of astonishment crosses my face as I'm eating.
José smiles. "Welcome to Spain."
Judges said the following about Wahmhoff's entry: "The author shows an excellent ability to create a statement and call to action with a good understanding of how words create and carry a point of view. What pushes this essay past a technical tie is the obvious passion and a desire to rise above disadvantages without a tirade or sense of entitlement and, most importantly, to work for a better future for others."
Here is an excerpt:
Today, I use my freedom of speech to fight for a world where my baby cousin can live without limitations, and where she can call out her complaints. I fight alongside many others for the thousands of women who are afraid to speak for themselves, for all the girls who were told that they couldn't. Because I believe now is the time to make a change.
When I was younger I was naive towards the disadvantages, but I am no longer sheltered. Today, I come closer to overcoming them.
Jorgensen says she looks forward to having her students submit again in future years. "The only difference next year is that each school can only submit twenty entries," she says. "It will be a difficult decision to choose which students get to submit."
Next year's competition will run from December 1, 2019 through March 1, 2020.