2018-2019 Literary Magazine Complete, Available Electronically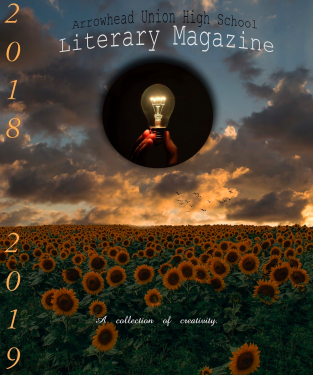 Every year, Arrowhead publishes a Literary Magazine. The magazine consists of poems, short stories, vignettes, art, and photography submitted by Arrowhead students. The 2018-2019 edition, A Collection of Creativity, is now available online.
This year's editors are seniors Elle Kriehn and Nicole Larson. The faculty advisor is Arrowhead English teacher, Elizabeth Jorgensen.
"I enjoy advising the literary magazine. It allows me to connect with students in a different way and see all of the creativity students are willing to, and interested in, sharing with the world," Jorgensen says.
The submission period started at the beginning of school year lasted through spring break.
Courtney Mook, an art teacher at Arrowhead, had her Digital Art and Design class work on the cover for the magazine.
Mook says, "The requirements for the cover were using Photoshop, having the title and year incorporated into their work, and being creative. I sent the finished pieces to the Literary Magazine and they voted to decide the winners."
Winning covers were designed by junior Erin Raebel, senior Lauren Engaldo and junior Mason Madson.
"Each semester, the senior editors selected favorite pieces and award those students with monetary prizes as well as certificates and t-shirts. Students selected for publication also get to add published author to their resume, which is really something to be proud of," Jorgensen says. "In the next few weeks, we will submit our 2018-2019 literary magazine to the Recognizing Excellence in Art and Literary Magazines (REALM) Program. It is an annual literary magazine competition sponsored by the National Council of Teachers of English (NCTE). Last year, for the very first time, the Arrowhead literary magazine received an honor of excellent in this competition."
According to the email announcement Jorgensen received, "The mission of NCTE's REALM Program is to publicly recognize excellent literary magazines produced by students with the support of their teachers. REALM is designed to encourage all schools to develop literary magazines that celebrate the art and craft of writing. Your magazine is a fine example of this mission in action, and the REALM committee looks forward to seeing future publications from your school! The listing of all ranked magazines is available on the NCTE Website. Congratulations on your school's achievement."
Arrowhead junior Nayla Brunnbauer had two pieces published in the Literary Magazine.
Brunnbauer says, "I decided to submit because I really want to get my work out there. I have so much to share with people. I know how much joy stories can bring others and I want my stories to be the reason the someone loves to read someday. There aren't many places I can submit my works right now but when I found out about our school's Literary Magazine I knew I couldn't turn down that kind of opportunity."
This was Brunnbauer's first year submitting to the Literary Magazine. She says that her freshman friend introduced her to the idea and that they used to talk about how exciting it would be to get something published.
One of Brunnbauer's pieces was a short story on her name. She says it was inspired by a story by author Sandra Cisneros.
Brunnbauer says, "Personally, I believe the story My Name turned out wonderful and I'm super honored it was chosen to be published. That little bit about how my name can be mispronounced is very true. When I was in middle school, some of my classmates picked on me because of the different ways to pronounce my name. In the end, it only made me stronger and love my name even more strangely."
Although the Literary Magazine is complete for the 2018-2019 school year, students can submit again next fall. To submit, students should email [email protected] or see Jorgensen. Students can also receive assistance from the 2019-2020 editors, juniors Alayna Schneider and Savannah Kortis.