Arrowhead Drama Department Gets Ready For Winter Production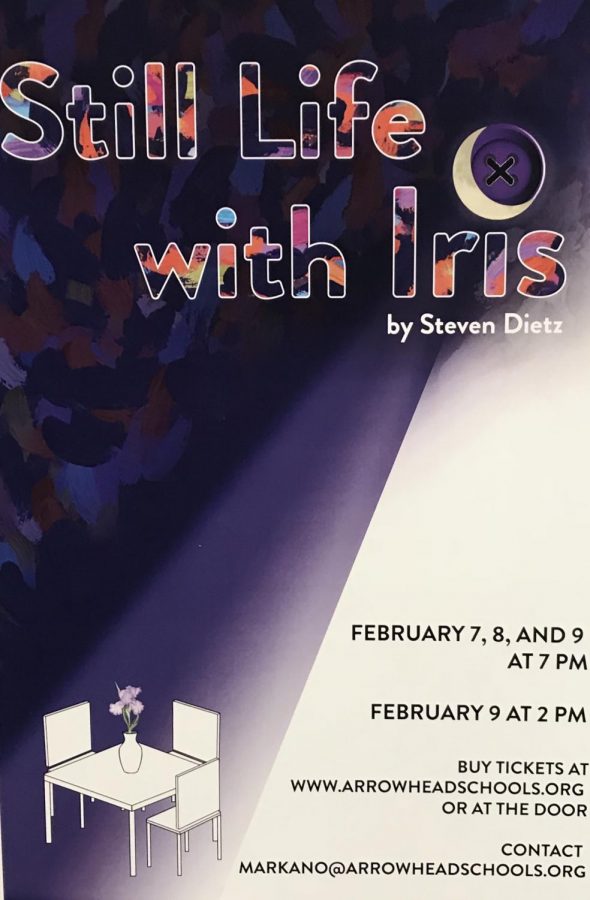 The Arrowhead Drama department will hold the first performance of  Still Life With Iris on February 7th. With seats are $8, and the community can watch Still Life With Iris on February 7th, 8th, and 9th at 7:00 pm, or on February 9th at 2:00 pm.
Seating is general admission, which means the audience chooses their seats. Doors will start to open 30 minutes prior to showtime. Tickets can be purchased in advance by returning turing in a ticket form with the payment.
Maralynn Markano, an English teacher at Arrowhead, is the Drama Department director. Markanos said she chose Still Life With Iris because of how different it was from pieces the drama department has put on in the past.
According to Dramatic Publishing, "Still Life with Iris is a fantastical adventure which centers on a little girl's search for the simplest of things: home. Iris lives with her mom in the land of Nocturno—a magical place in which the workers make, by night, all of the things we see in the world by day. Also, in Nocturno, memories do not reside in people's minds but instead are kept in their coats (called 'Past Coats'). The rulers of Nocturno, the Great Goods, are determined to have the "best" of everything on their island—and therefore take Iris away from her home and bring her to Great Island to be their daughter. To ease the pain of this separation, they remove her Past Coat, leaving her with no memory of her home or her family. All that remains of Iris' past is a single button from her coat."
Markanos said, "I haven't produced a children's show in about five to six years, and I like to offer my Drama actors a variety, so I was on the hunt for a script that was whimsical, colorful, and with a good message.  Still Life With Iris has all of those and offered the opportunity for me to cast 28 students."
Markano says she enjoys taking an empty stage and a script and bringing it to life.  She says the actors tell the stories in their own voice and the stage crew builds the set to match the make believe world.
Iris will be played by Arrowhead freshman, Caroline Frost. Iris's mother will be played by junior, Olivia Liebe. Amelia Carey (junior), Mckayla Murphy (sophomore), Kaya Sarajian (junior) and Chris Purney (junior) are the Assistant Director, Stage Manager, and Assistant Stage Managers, respectfully.
According to Markano, one of the most difficult parts of putting Still Life With Iris together was building the props and set. Since Thanksgiving, the students have been creating large clouds, rainbows, a waterfall full of fish, large scale ladybugs, spiders, and bees, and so on.
Markano says, "I just think people need the arts, theatre in particular.  I think that it allows us to escape reality for a bit and immerse ourselves in other people's worlds, even when fictional and fantasy.  There is always something or someone to connect to in any play.  To build empathy in our world, we have to look at the world from multiple perspectives; that is what theatre does every single day.  Beyond that, and more specifically, this cast and crew of over 40 people have worked long, hard hours for over two months; their work and dedication needs to be shared and appreciated."
Megan Resch, an Arrowhead junior, will be playing the role of Thunder in the production. Resch says she auditioned for the play because she loves acting and expressing herself through a script.
Resch said, "I have always struggled with who I am as a person, so [acting] helps me forget everything to take on another character for just a few hours."
Resch says she has made a lot of friends in this cast and stage crew. One of her favorite parts of being in shows is seeing all of her friends grow throughout the play.
Resch says, "I learned that success is not measured in how long it takes to memorize lines or how many people see the play, but rather it is measured in the smiles I see on my face and everyone else's faces. It means so much to see all my friends happy. Success isn't materialistic, it isn't tangible, it is seeing the people you love succeed."