Arrowhead DECA Students Present Two Marketing Nights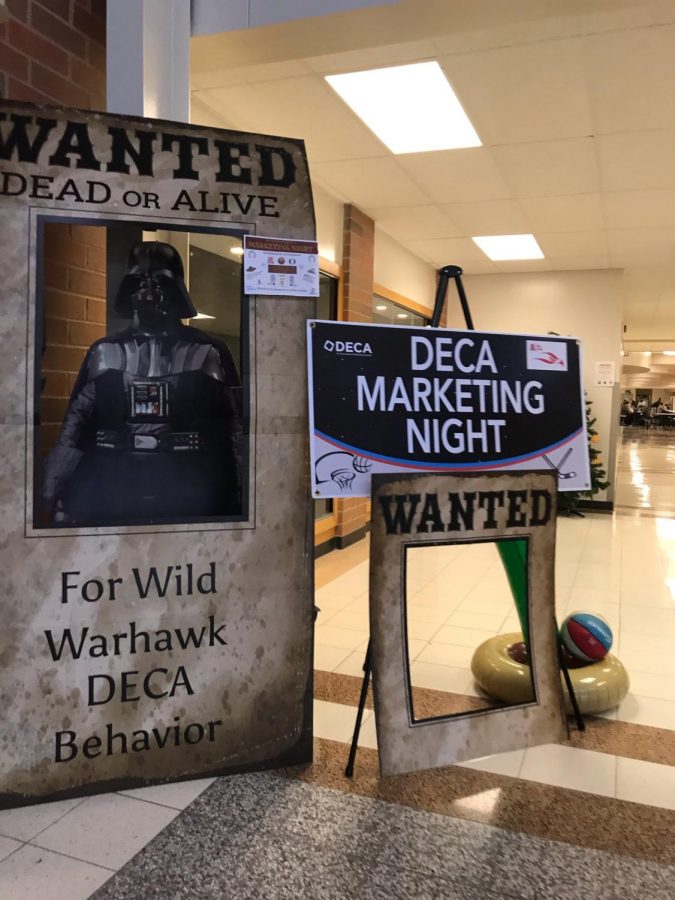 The first marking night is on Friday, December 7th, 2018. The official DECA Marketing Nights event starts at 5:30 p.m in conjunction with the Arrowhead Boys Varsity Basketball Team when they take on Oconomowoc High School in the AHS NC East Gym. It is also Youth Night. All the Arrowhead Boys Basketball Youth Teams in the district (all the local Arrowhead feeder schools) are invited.
Tip-Off is at 7:00 p.m.
The theme is Western Marketing Night.
There will be activities, food, and fun planned throughout the evening.
"Marketing nights is a great way to promote school spirit and involve the community. Our students learned first hand how to market and implement an event," said Steven Melzer, Arrowhead Marketing & Business Teacher, DECA Advisor, and School Store Supervisor.
Arrowhead DECA and Broadway Company will be performing the National Anthem.
Those who visit Marketing Nights can wear their favorite western gear. There will be a Western costume contest. Prizes for the contest are meal vouchers for Texas Roadhouse, t-shirts, and Arrowhead water bottles.
For the first 250 Arrowhead students who go to Marketing Nights, will receive a free cowboy hat at the door. They can also write a letter to Santa Claus through Macy's "How Dee" Santa Claus Letter Writing Station and $1 will be donated to the Make-A-Wish Foundation.
The event is catered by Texas Roadhouse. It is a Texas Roadhouse Grub Station (Pulled Pork Sliders for $4.00 with Famous Rolls). All money from the food, Charlie's Rootbeer stand, any donations for Wish Stars, and miracle minutes go toward the Make-A-Wish Foundation
For beverages, fans can get rootbeer Trough Saloon, where Rootbeer Charlies Beverages will be sold. There will be a frozen yogurt station from Yo Mama Frozen Yogurt in Brookfield, WI.
There will be a Texas Roadhouse Photo Booth, where students and fans can get pictures with the mascots and various Western Attire and Props. The mascots are from Swallow, Lake Country, Merton, Texas Roadhouse, Rocky Rococos, and Arrowhead (Wally the Warhawk and Wilma). In addition, there will be a Make-A-WIsh Country Trivia Booth filled with games and trivia.
There will also be a "Country Shootout" Hoop Zone basketball shooting contest. There will be prizes for the shooter. There will be entertainment promotions at half-time and timeouts.
Arrowhead Hawkettes will perform at the halftime show. In addition, a special dance from their local mascots.
There are over eight mascots in attendance to have a photo opp and provide entertainment.
Country western music will be playing all night long.
There will be a "Get On The Bandwagon" Miracle Minute for the Make-A-Wish Foundation.
In the past ten years, Arrowhead DECA's two best projects are Hawkfest and Marketing Nights, where they have raised over $250,000 for charities and community service.
"Stay tuned for Marketing Night 2 "Pajama Party" information which is on Tuesday, December 18, 2018, where our girl's basketball team take on Waukesha Catholic Memorial (free t-shirts to first 250 Arrowhead fans) at 5:30 pm., said Mr. Melzer in an email sent to all Arrowhead staff.
To keep in touch with Arrowhead DECA's Marketing Nights, one can follow @arrowhead_deca on Instagram and @arrowhead_deca on Twitter.
"Students are able to gain experience in leadership, apply what they learned in marketing class, and have fun doing it," said Melzer.