Student Drivers Keep Safe without Cell Phones and Distractions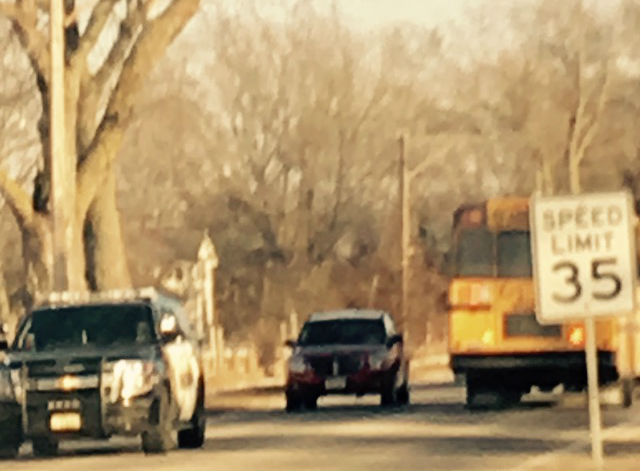 Brielle Beres, a senior at Arrowhead high school, passed away in a single-car crash at 3:04 a.m. on Monday, Nov. 21, 2016 in Pewaukee. Waukesha County Sheriff's Department reported that she and a 20-year old Hartland man were driving east on Capitol Drive west of Ishnala Trail when the Ford Taurus struck the telephone pole, said fox6now.
According to distracteddriveraccidents writer Kiernan Hopkins, over 2.5 of 318.9 million people in the U.S. are involved in road accidents each year. Of the 2.5 million involved, 1.6 million have a cell phone involved in them. 37,000 and more people die in automobile crashes in the U.S. every year.
"People text and drive if they feel like they are busy and it cannot wait to answer someone. I think using your phone at all when you drive is dangerous. However, using a Bluetooth system in your car is acceptable I think. I think people text and drive in order to stay connected and make sure their plans are following through. I try to never text and drive, and if I do need to say something, I pull over and check my phone," said Maria Turco junior at Arrowhead.
Hopkins said that every year, 421,000 people are injured in crashes that have involved a driver who was distracted in some way. Texting and driving accidents result to over 330,000 and lead to injuries. Meaning that over 78% of all distracted drivers are distracted because they were texting and driving. One out of four car accidents in the US are caused by texting while driving. One that texts while driving is six times more likely to get in an accident than one who was drunk driving.
"People text and drive because they want to talk to their friend or have have someone to talk to. I don't know anyone who texts and drives and I don't text and drive. I never used my phone while driving. My dad did once and I yelled at him for it and same with my mom and he never did it again," said Brooke Blaha, a sophomore at Arrowhead.
The DMV says that in Wisconsin, if one is arrested and charged with an Operating While Intoxicated, the charge of an OWI is a serious offense with mandatory jail time along with other penalties. If the driver is over 21 years old, the law defines intoxication if one is driving with a blood alcohol concentration of 0.08 or greater. Driving while under the influence of an intoxicant includes alcohol, legal prescription medications, illegal or controlled drugs or other chemical substances. Driving while under the influence includes a detectable amount of any restricted controlled substance in the bloodstream.
"I think it's not okay to be under any influence with drugs or drinking while you're driving. The chances are most likely to get in a car accident are winter. The danger on the road are teenagers because they're more careless. Even though I don't do any of those events I think it's very eye opening and can help people," said Brooke Blaha, a sophomore at Arrowhead.
A Pewaukee couple and their teenage son agreed in paying fines for hosting a July drinking party for underage guests. Three 18-year-olds who were at the party passed away when their car slammed into a tree in Delafield that night. The driver's blood alcohol level was more than twice the legal limit. The 18-year-olds in the crash were from Arrowhead, two recent graduates and one who would have been a senior, said jsonline.
According to cdc.gov, every day 28 people in the United States passed away in crashes that involved impaired drivers. There is about one death every 53 minutes.
"The chances of getting in an accident are high enough in the winter, but they significantly increase when you are under the influence. They are not only putting themselves in danger, but also everyone on the roads. I think it is the stupidest decision a person can make to drive under the influence," Turco said.
Wisconsindot.gov says that for any automobile sold in the state of Wisconsin, it must be equipped with safety belts. All drivers and passengers over the age of four are required to wear safety belts. The laws are applied to all Wisconsin residents and non-residents in front seat and rear seat positions with three-point belts. For children under four, they are required to be restrained in an appropriate child safety restraint.
"I feel like wearing your seatbelt is important, but if it is a short trip or too hard to get it on, it is okay to not wear it. I usually stay silent, unless I am the one driving. Then I make everyone wear their seatbelts. People do not wear seatbelts simply because they think they don't need to," said Turco.
"Any automobile sold in the state of Wisconsin must be equipped with safety belts.
All drivers of motor vehicles and all passengers over the age of four must wear safety belts. These laws apply to Wisconsin residents and non-residents alike in all front seat positions and in rear seat positions with three-point belts. Children under four are required to be restrained in an appropriate child safety restraint," said wisconsindot.gov.
"When someone doesn't wear a seatbelt I always say something and tell them to put one on. I think you should always wear a seat belt. I honestly don't know why people don't wear their seat belts it takes one second to get them on," said Brooke Blaha, a sophomore at Arrowhead.
According to edmunds.com, a new study was performed by Liberty Mutual Insurance and SADD, Snapchat and Instagram lead the list of apps that most distract teen drivers. It has a percent of 38, whereas Instagram is 20%, Facebook 12%  and Twitter 17%.
"I agree that Snapchatting and driving is not okay. And also FaceTime and driving is not okay you should be focus on driving. Changing a song on an app is okay to me as long as you're at a stop sign or parked. Watching YouTube videos and calling on the phone are not okay because you could get in a car crash and it increases your chance of getting in a car crash. If you're talking to a blue tooth that's okay," Blaha said.
According to wisconsindot.gov, cell phone use while driving is against Wisconsin Law for any driver with a probationary license or instruction permit, except to report an emergency. The law applies to handheld and hands-free phones. It against the law for all drivers in Wisconsin.
"I think people lack patience, and in a rush feel capable of texting and driving simultaneously. Under any circumstances texting and driving will increase the chance of accidents, and given that the rate of accidents increases in the winter without factoring texting, it is highly probable that texting and driving in the winter is more dangerous. All media usage listed most definitely increases the risk of accidents. Talking on the phone via bluetooth would have the least impact, although it could still pose a distraction to a young driver. Again, driving under the influence of anything (including cellular device based media) poses a threat to a driver, as their attention is diverted from the task of driving. Accidents under all circumstances are more likely in the winter than the summer, as nature itself is providing a distraction/challenge to a driver. I have participated in Operation Click, including signing a pledge to not text and drive and a pledge to wear my seatbelt. I have not attended any other events," said Maia Koehnlein, a junior at Arrowhead.