Arrowhead Football Coach Greg Malling Resigns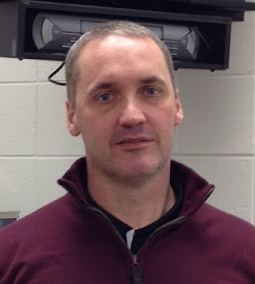 The Malling era is now over. Greg Malling has resigned, effective immediately,  as head coach of the Arrowhead varsity football team to be closer to his family and his mother who is suffering from cancer. He took a head coach position at  Coon Rapids High School near Minneapolis, MN.
Malling has been the Arrowhead High School football coach since 2011. In that time, he has taken the team to four straight state championship games, winning in 2012 and 2013.
Malling is not originally from Wisconsin. He is from Bismarck, North Dakota. Ever since the news of his mother's cancer, Malling has been waiting for the right time to be closer to her, he says.
"I thought about it for a long time, with my mom going through her cancer treatments," says Malling. "It's tough. There's never a good time, but things worked out that way."
He says his coaching career took him to Wootton High School in Washington, D.C. where he was for five years, then he went to Florida to coach before coming up to Arrowhead in 2011. At Arrowhead, Malling replaced the legendary Tom Taraska, who coached Arrowhead for 29 years. During Taraska's tenure, Arrowhead won four state championships.
And like Taraska, Malling's coaching career was nothing short of excellent. He continued Arrowhead's legacy by taking the team to four straight state championships.
Malling's says he has great respect for Arrowhead. And he says he's confused by other people's perceptions of Arrowhead. He says he believes the group of kids he coached at Arrowhead have the greatest work ethic he has ever seen.
"People miss that we are very blue collar in our work ethic," says Malling.  "It's a mentality that would make a good team of construction workers. What I've learned the past five years with you all is that attitude gets you further than talent would."
Malling says he remembers many moments from his five year coaching career at Arrowhead, including winning his first state championship, and beating undefeated Franklin in one of the greatest games he's seen. But Malling says the moments during the summer before the season started are what really stand out.
"I'll always remember a picture of a summer workout when there are 400 hundred kids out on the field and that many people pushing towards a common goal. Some aren't in football or any sport at all. It's the neatest thing," Malling says.
But a head coach is nothing without his assistant coaches and players, he says. Malling has built a connection with all his assistants and believes he is lucky to have had such a talented staff at Arrowhead.
"The staff themselves are awesome. I think I would be the easiest one to replace because they are all incredible in their skills. Very hard working. It's really hard to leave them."
After talks with the Coon Rapids athletic director and principal, Malling says he believes this new school is a great fit for him. The school's athletics are co-circular instead of extra curricular, which means sports are part of the classroom.
Coon Rapids only had a combined six wins in the past five years. But Malling says he is up for the coaching challenge.
"It seemed like a nice challenge," says Malling. "I've been really spoiled here. I don't think anyone deserves this easy of a time coaching. I've learned so much from the school and you guys. I liked to see if I could transfer some of those same principles and ideas out there."
Malling was the coach to succeed the legendary Taraska and Malling did what was asked: Not only did he take his team to multiple state championships, but he also made connections with his players.
The senior classes will be the ones Malling remembers the most, he says, and he has some last words to those who he will not be coaching next year: "We always talk about an internal focus, about their abilities. Their ceiling is so high, if they keep focused on themselves and not winning games, or going to state and seeing [how] good they can be as a group. The talent level is still there, the attitude is still there, the toughness is still there. I will miss the opportunity to work with them during their senior year, but that's life."