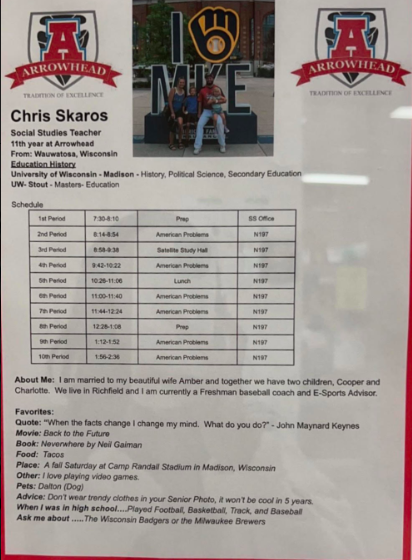 Arrowhead teachers have signs outside of their classrooms that give students information about their schedules. The schedule shows students what hours and classes they teach, as well as information about each teacher's prep and lunch.
The signs outside of teachers' doors include the following: education history, personal information, and a photo.
Chris Skaros is a social studies teacher; he's been working at Arrowhead for 11 years.
According to the sign outside of N197, Skaros went to The University of Wisconsin-Madison where he studied history, political science, and secondary education. Skaros also went to UW-Stout where he got his master's in education.
His favorite quote is "When the facts change I change my mind. What do you do?" by John Maynard Keyness.
Maynard Keyness was a British economist known for making up Keynesian economics; he is known as the founder of macroeconomics.
Skaros listed his favorite food as tacos and advised, "Don't wear trendy clothes in your senior photo. It won't be cool in five years."
Katie Herrmann is a language arts teacher. According to the sign outside of N196, Herrmann has been working at Arrowhead for six years.
Herrmann went to the University of Wisconsin-Milwaukee where she earned a master of science curriculum and instruction and also went to the University of Wisconsin-Stout where she earned a bachelor's degree.
Herrmann's favorite quote is "You think your pain and your heartbreak are unprecedented in the history of the world, but then you read." by James Baldwin. Herrmann's favorite movie is Life is Beautiful and her favorite food is Acai bowls, granola bars, and yogurt.
Senior Rachel Kleinhans says "I only look at the signs if im waiting outside of my teachers room."