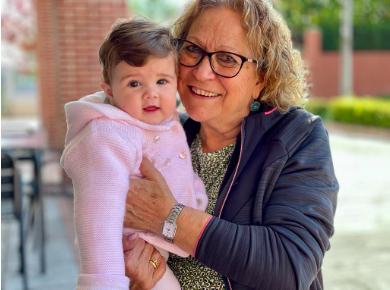 Iris Esteban, a 16-year-old foreign exchange student from Basque Country, Spain, was recently published in Youth Be Heard for her piece I Miss You, Grandma.
Writing pieces is an enjoyable hobby Esteban says, and she got to experience a new aspect of writing by being published. She explained the only writing competition she is able to do in Spain happens once a year. 
Esteban's English teacher at Arrowhead High School, Elizabeth Jorgensen, has students in her creative writing class to submit their pieces to writers' markets throughout the semester. 
"I want students to know they can be a published author," Jorgensen says. "I'm so happy Iris had her piece published in Youth Be Heard. It truly is a beautiful and publish-worthy piece."
Esteban says she spent two days writing her piece in her Creative Writing class, taught by Jorgensen. Submitting to writing competitions such as Youth Be Heard is a common part of the class, Esteban says. 
"[In Spain] I won my competition but the award was money not being published. It was a short story competition for the whole country," says Esteban.
Having to send pieces to this competition and then being published was not something Estaban expected. "The school in Basque country doesn't make us send stuff to competitions but we have one that is yearly in the country and the whole school usually participates. I was not expecting to be published and my mom is mad at me for what I wrote about since my grandma is not actually dead," Estaban said. 
The writing competition was to create a piece with the prompt What is something you can't live without? Esteban was inspired by other classmates' ideas of not living without a cherished treat that a certain relative makes. She decided her Grandma was someone she couldn't live without. 
"I want to clarify, my grandma is not dead. I wrote it as if she passed. I am glad my grandma doesn't know English so she doesn't think that I killed her. But she would probably be happy for me that I got published," Esteban says.
Esteban believes this piece wasn't hard to write, moreover, it was hard to tell her mom that she wrote a letter with the false context that her grandma is dead. Overall, Esteban feels proud to have her piece published and hopes that more of her future pieces will be published this year.