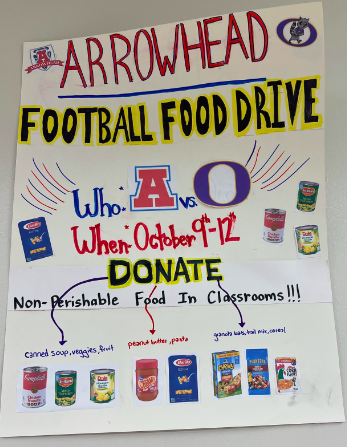 Arrowhead boys football team is playing their last conference game against Oconomowoc on Friday, October 13th, 2023.
The theme for the Arrowhead student section as well as Pink Out to spread awareness for breast cancer.
Oconomowoc and Arrowhead joined up together to support breast cancer by wearing pink.
For the fourth time, the Football and Food Drive challenge was brought on by Feeding America Eastern Wisconsin challenges Arrowhead High School is competing against Oconomowoc High School. Last year Arrowhead and Oconomowoc combined donated 24,000 meals.
The food collection started on Monday, October 9, and ended on Thursday, October 12 when Feeding America will pick up the food collected.
Senior Rachel Kleinhans said, "I will donate food, my parents would love that."
In every classroom, there were cardboard boxes for students to donate food items. Any room that has 150 food items will have their names put in a raffle where four winners will receive a free lunch for themselves and a friend.
Feeding America is a nonprofit organization that works with more than 200 food banks to help feed 46 million people through food pantries, soup kitchens, shelters, and other community-based organizations.
Feeding America is the largest charity according to Forbes. Feeding America has a 99 percent efficiency rate.
Arrowhead Schools' Instagram posted a video to their account with principal Adam Kurth and students interacting to bring awareness to the food drive.
Senior Sophie Nowak said, "I will donate the cans of food my family does not eat."Arrowhead Students Participating In Food Drive and Breast Cancer Awareness