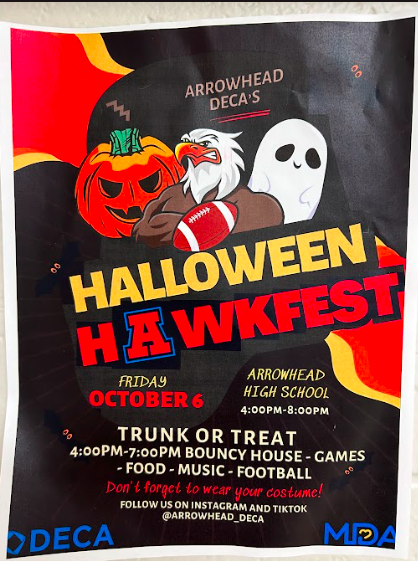 This year's Hawksfest will be led by Arrowhead teacher Steve Melzer's Sport Entertainment classes and DECA (Distributive Education Clubs of America) team. Hawksfest is a festival hosted by Arrowhead High School, and it is a time for friends, family, and students to attend. It will be hosted on Friday, October 6. The event will begin at 4:00pm and end at 8:00pm. The football game will start at 7:00pm. Trunk or Treat will take place from 4:30 – 7:00 pm. 
The event will be in Arrowhead's North Campus parking lot. Early wristband sales, which are for staff only, start on Monday,October 2, 2023.  The regular wristband price is $20 but staff can purchase prior to October 6 for $10 each.
The theme for the Trunk or Treat will be Halloween. 
In addition to the event, there is going to be a Trunk or Treat area for trick or treating. Halloween costumes will be allowed to be worn during Hawksfest and Trunk or Treat.
There will be activities such as Trunk or treat, inflatable fun, vendors, hometown mascots, business promotions, live music, food court, entertainment talent stage much more. 
Melzer says, "It's a fun time for kids and students to go with all their friends. There's gonna be fun games, and good food to eat, and then they can head over to watch the football game."
Senior Olivia Vogt says, "I'm excited for Hawksfest because when I have gone to the past it has been fun, I like dressing for themes, cheering on the football team, and getting to play games. Looking forward to the Khona Ice."
Senior Delany Logan says, "Not excited that much, I think I'm too old for it. I would also go for the Khona Ice."