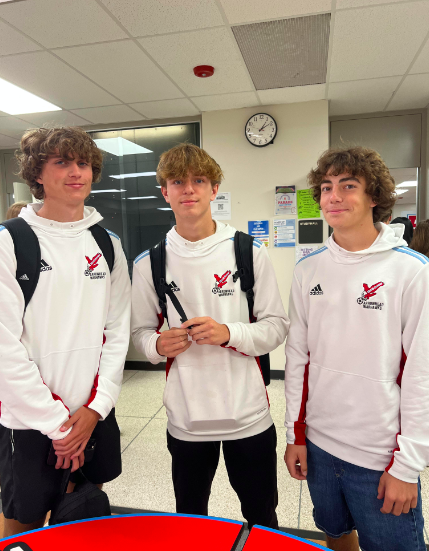 On Friday, September 22, 2023, Arrowhead High School will be hosting a HEART awareness night. The boy's soccer team will be playing Madison Memorial while Oak Creek takes on Germantown.
The Arrowhead Boys soccer team is undefeated this year except for ties against Waukesha South and Muskego.
The theme this fall for the boys soccer team is HEART which stands for Have Everyone Around You Ready Today.
This Friday's game brings awareness to AEDs (Automated External Defibrillators) and cardiac emergencies.
After last year's Arrowhead boys basketball game against Catholic Memorial Arrowhead, Junior Ty Wall experienced a sudden cardiac arrest and Jeff Staus, physical education teacher at Arrowhead and boys soccer coach, was there to help save Wall's life, this became the theme for this soccer season.
During the second half of the boy's basketball game last year against Catholic Memorial, Arrowhead Senior Josh Staus said, "I heard a thud and looked back and saw Wall on the bleacher behind him.
Josh Staus said, "A couple of friends flipped him over and saw that he was unresponsive and unconscious."
Josh Staus immediately ran down the stairs of the student section and alerted his dad, Jeff Staus.
Jeff Staus along with athletic trainer Chyla Bechtel and supervisor Sam Leo ran up the bleachers to assess what happened while Assistant Activities Director Liz Arsnow called 911.
Pediatric Emergency Physician and a parent of former Arrowhead student Max Rubella was in the stands along with Swallow school Principal Melissa Thompson, cheering on Arrowhead students while they noticed unusual activity in the student section. Both came to the student section while Jeff Staus hurried to the lobby to get one of the ZOLL automated external defibrillators (AED).
Wall was back in seconds because of the AED until he was able to analyze Wall's heart and gave a shock. After the shock they noticed his color improving as well as his breathing his eyes were even starting to open.
EMTS took Wall to a local hospital where he was prescribed a ZOLL LifeVest wearable defibrillator before he was scheduled for an implantable cardiovascular defibrillator, which is a device to help protect Wall from future heart rhythm irregularities.
Senior Jack Hudson and a player on the Arrowhead Boys soccer team says, "I think it is amazing what the soccer program is trying to do and spread awareness."
According to the Arrowhead Boys Soccer Team Instagram, there will be Arrowhead health teachers, nurses trainers, and coaches onsite to provide instruction on hands-on CPR and will also have AEDS available for those wanting to learn more about the machines.
Those who can not attend HEART awareness night and are interested in learning hands-on CPR can go to Red Cross Training to be trained in CPR first aid and other training that can save lives.
Last year the Arrowhead Boys soccer team ended their season with a loss against Brookfield East.
Senior Mateo Bova said, "Last year we lost against Brookfield East in the sectional final and were still kind of mad about that."
Returning players from the Arrowhead boys soccer team are Jack Hudson, Mateo Bova, Josh Staus, Beckett Hughes Alec Behringer Kieran Dwyer Ayden Knuth Tyler Davis Logan Walker, and more.