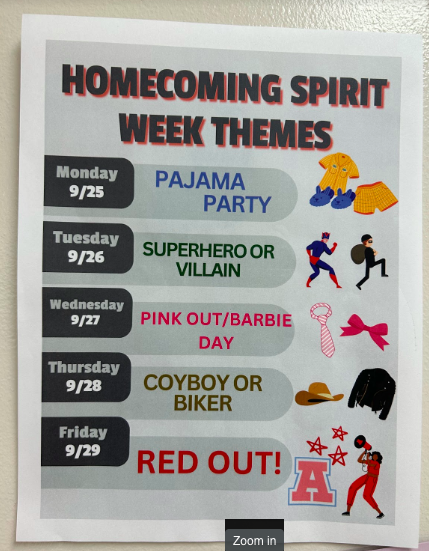 This year's homecoming theme is Under The Sea. The Homecoming dance is September 30 at Arrowhead from 7:30 – 10:30 pm. Students will enter through NC Door 1, the Main Entrance. 
And a reminder for all who plan to join, it is required to have a school ID and a ticket to enter into the dance. The doors will officially close at 8:30 pm. 
In the week of homecoming, Arrowhead's student senate has come up with spirit wear ideas for the occasion.
Monday 9/25 will be PJ/ Comfy Clothes Day. 
Freshman Ava Fidalgo says, "I will be wearing my plaid pajama pants and a hoodie." 
Tuesday 9/26 will be This or That: Superhero or Villain. Have a favorite hero or villain? Then this is the day to dress up as your favorite character.
Wednesday 9/27 will be Barbie & Ken Day. 
Senior Eiley Brahm says, "I will probably wear my pink pants". 
Thursday 9/28 will be another This or That: Cowboys or Bikers. Feel like being a rough and tough cowboy? Or a hardcore biker? 
Friday 9/29 will be Red Out. It is also our Pep Rally of 2023. Where all of both North and South campuses meet out at the football field at 1:32pm after class and celebrate the big game our varsity football team will have against Muskego at 7:00.