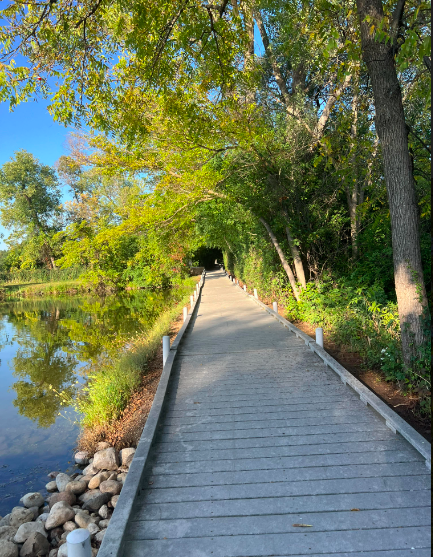 Arrowhead's Homecoming is Saturday, September 30th, 2023, and doors for the dance open at 7:30 p.m. Tickets can be bought on the Arrowhead home page for $10 a ticket. The theme this year is Under The Sea which was chosen by students last school year.
Senior Garrett Sexton said, "I don't have a plan for homecoming."
The last day to buy homecoming tickets is September 30th.
Senior Ellie Bognar said, "My group plans on taking photos at the Fish Hatchery around 5 p.m. and we have a dinner reservation at 6 p.m. for Zin."
The Fish Hatchery is a building located in Delafield that borders the Bark River and is used for meetings and events.
Zin is located in Delafield as well. Zin is a California Italian restaurant. The restaurant opens at 11a.m. and closes at 10 p.m. the menu ranges from burgers to pasta, with prices ranging from $13-$30 per plate.
Bognar says she is in a group of ten people with a mix of boys and girls.
Sophomore Paige Willroth said, "I'm going to Lago Su Bella for dinner and I'm going somewhere in Oconomowoc for pictures."
Lago Su Bella is an Italian restaurant located in Oconomowoc the restaurant opens at 3:30 and closes at 10:00 pm. The menu offers a wide range from Spaghetti to Swordfish. Entree prices start at $18 to $40.
Arrowhead's Homecoming falls on the same date as Kettle Moraine and Oconomowoc's Homecomings, so securing a reservation in Delafield, Oconomowoc and Hartland for a homecoming group may be harder than in previous years.
If students plan on bringing a guest from another school to Arrowhead's homecoming they need to complete a guest form. At the dance, students will need to show their student IDs to enter. Guests will also need to show IDs.
At the dance, there will be a mandatory coat check. Students are allowed to access items from their coats once during the dance. Doors will be locked at 8:30p.m. and no one will be allowed to enter after that. Students will not be permitted to leave the dance before 9 p.m.
Friday, September 29 is also when Arrowhead's pep rally takes place. If students want to partake in the pep rally, they must fill out a form. The activities to participate in this year for the pep rally are a relay race and bubble soccer. To participate in bubble soccer students have to complete and return a participation waiver.
The homecoming parade starts at 4:30 p.m. on Friday, September 29th. Following the parade is the homecoming game against Muskego at 7:00pm. where the theme is red out .