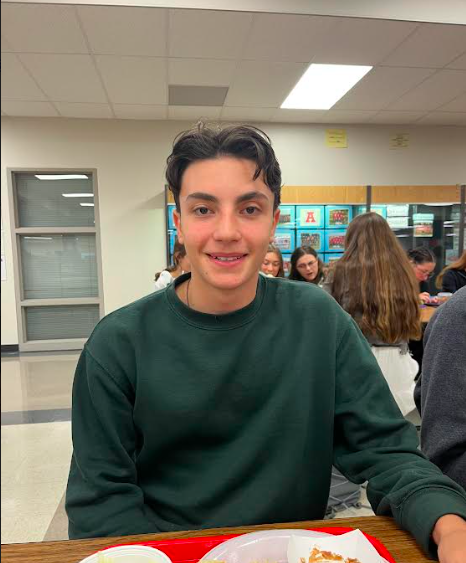 Giorgio Natale is a foreign exchange student from Naples, Italy, who got the opportunity to enroll at Arrowhead for a semester of his senior year.
 He was able to get here thanks to the International Student Exchange (ISE) Agency and Master Studios in Italy. Currently, Natale is living with a host family in Pewaukee.  
"They're really nice they are trying to get me involved with so many activities. They are trying to not make me feel alone since I'm so far away from home," Natale says.
With being a 15 hour plane ride away, in a new country, Natale is curious to see what teenage life is like in America. He says he's excited to be in the States for a new experience, quickly learning how different the education system is here at Arrowhead.
"[In Italy] we have five years of high school and we don't choose our own subject but after middle school, we choose an 'address' which is like the subject we want to learn about," he said. 
Natale had chosen a scientific address coming out of middle school. At Arrowhead he is currently taking Advanced algebra, Anatomy, forensics, U.S. history, physics, Global Junior Seminar, and British leadership. Arrowhead has provided him the chance to choose his own classes which is something he did not get to experience in Italy. He says that Anatomy has been his favorite class so far. 
 Being able to take so many classes and to be able to choose classes of his interest, Natale says he sees what it's like to be on a fast-paced forty-four-minute schedule.
"You have more classes and more periods. We have five periods a day. We don't have study halls or lunch. In Italy we have different times, we eat lunch at 2 pm and usually have dinner at 9 pm. We never have breakfast. I'm getting used to eating lunch at this time," he said.
Another part of Arrowhead and being in a high school in America, Natale gets to experience how crazy students get for school sports and activities. He was able to go to his first high school football game this year and stand in the student section. He says sports in high school are limited in Italy. The only options are volleyball or soccer. 
Something that Natale is really excited about is getting to experience homecoming, including the activities that lead up to it like the Pep rally and spirit week. 
"I want to live the whole experience. Homecoming, we don't have in Italy so I want to experience it. The only activity like homecoming we have in Italy is an assembly when all the students are united in the entry and we have presidents of the students that organize some activities. But they are only like an hour long and are during the school day. Nothing during after-school hours," Natale says.
Arrowhead's Homecoming week begins September 25th and ends with the Homecoming dance on September 30th.