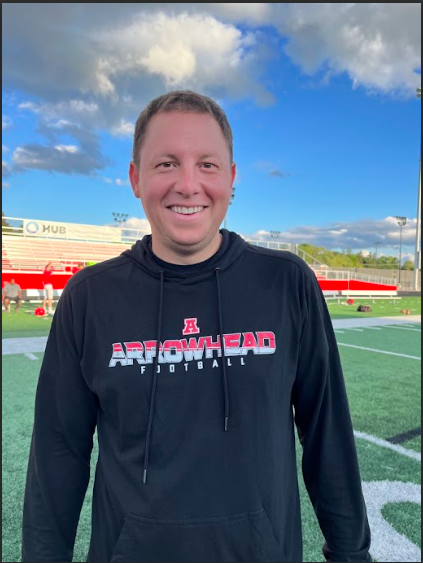 Steven Petersen, an advanced algebra teacher has just started at Arrowhead this year, after having spent the previous four years coaching Warhawk football. He teaches freshman and sophomore Advanced algebra at south campus. 
Prior to coming to Arrowhead, he had been an algebra teacher at Homestead for eight and a half years. For the past eight years, he had a forty minute drive to Arrowhead each day after school to coach football. Therefore he concluded that teaching here would be a lot easier and cut the drive down from his house in Waukesha.
Ryan Heiman, a sophomore at Arrowhead said, "Mr. Petersen motivates me to work hard in class and block hard on the field." 
Petersen took over for Math teacher Dale Destach who used to also teach in the same room that Petersen has now. 
Sophomore Harper Hughes says, "It is easier to connect with him in the classroom because having him as a coach pushes me to work harder in the classroom."
Heiman and Hughes both say that at Arrowhead, Petersen is known as a funny teacher with a great approach and a supportive coach. 
When Petersen is not at school teaching, says he enjoys watching sports, and finds coaching to be a fulfilling hobby. 
Petersen says if he has one motto to live by it would be "don't give up, don't ever give up." It is written on a bracelet he wears every day.
Sophomore Eveyln Perkins says she has gotten to know him well through ACC and football management. "He is always very encouraging and uplifting and seeing him in the hall always brings me a good laugh," she says.
Peterson says he wants people to know he is very excited to be teaching at Arrowhead.