The Face Behind the Art: Ryanne Farris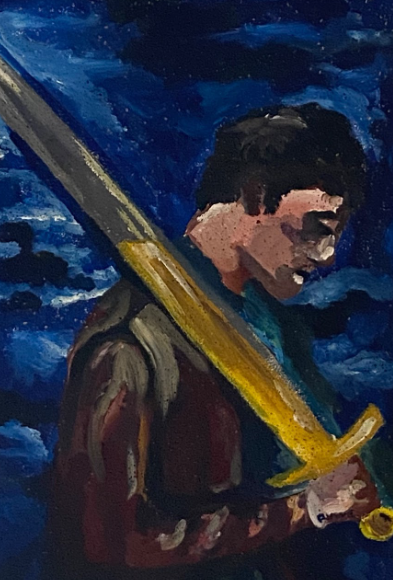 Ryanne Farris, a junior at Arrowhead, finished painting the newest addition to the custom ceiling tiles in room N197, teacher Jennifer Passler's room. Multiple ceiling tiles in the room are custom painted by students, and Farris wanted to make an addition.
"When we started the latest unit, I asked Mrs. Passler who painted the ceiling tiles. She told me that it was past students, so I asked if I could paint one. She said yes right away, and she just asked what I wanted to paint," says Farris.
The painting is of the character Merlin from the King Arthur stories, holding the sword Excalibur. Passler, who teaches British Literature, American Literature, and AP English Literature, says "The only thing I request students to do is paint something themed from one of my classes."
Passler has been collecting ceiling tile paintings for as long as she can remember. "The ceiling tile paintings started, like, a million years ago," she says. "A student asked me to paint a ceiling tile in my room, and I was like, 'Yes, that would be amazing.'"
"I did have to ask for permission many moons ago–well, three principals ago. I just asked if it was okay and was told that it was," says Passler. "The tiles have been painted by American Literature, British Literature, and AP Literature students…all students who expressed an interest and approached me. There are at least nine painted tiles and each represents a story we read in one of these classes."
"I had to buy extra tiles while students were working on their own tile because there couldn't be a hole in the ceiling for a long time, but Ryanne got her painting done really fast," Passler says. "[Farris] approached me like other students do–asking who paints the ceiling tiles. She told me she was an artist, so I totally agreed."
"[Farris] got her drawing done within a week, and when I approved it, she had the ceiling tile completely done and installed in under a month," says Passler. "She wanted to paint Merlin from the tales of King Arthur, which we recently had a unit on. She wanted him to be younger, and holding the sword Excalibur, which is a super powerful sword in the stories."
Farris says, "The painting itself took me probably three hours, and I used acrylic paints from the school art room to paint it. It ended up looking really nice."
Ceiling tiles aren't the only thing Farris likes to customize.
She says, "I really like doing watercolor painting. I also really like drawing people and people in nature. I kind of range from realism to impressionism."
Realism is defined by Oxford dictionary as the quality or fact of representing a person, animal, or thing accurately to its appearance in real life. Impressionism is defined by the same dictionary as characterized by a concern with depicting the visual impression of the moment, especially in terms of the shifting effect of light and color.
Farris says, "I've been doing artistic stuff since I was maybe eight years old. I've always enjoyed it."