Students Make Charcuterie Boards and Teachers Vote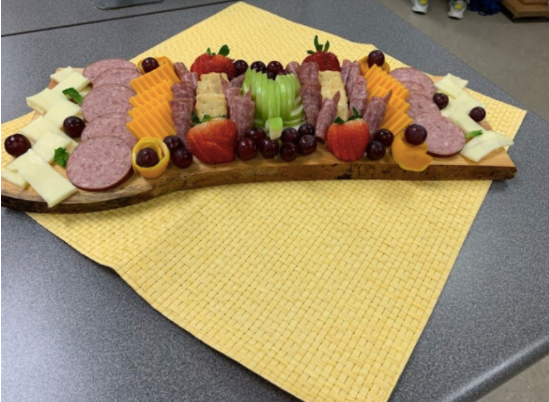 Students of the culinary foods class used their garnishing and presentation skills and made charcuterie boards for teachers to vote on. 
Culinary foods is a class that is semester long that teaches students all about different culinary dishes through labs, and projects. This class includes competitions like chili cookoffs, cupcake wars, and food truck challenges. Students do have to have a prerequisite of food and nutrition to take this class. 
Teachers had to vote for their first and second place winners through Brenda King's email by Monday, February 21st. 
To make the charcuterie boards, the students used a variety of food ranging from fruit to meat. They used grapes, strawberries, and oranges. They used meats like salami and pepperoni. They also then used cheeses, like cheddar, and provolone and there was some cheese that was cubes and some that was sliced. 
There were ten boards that were taken pictures of and placed in a slideshow, labeled A-J. 
English teacher Elizabeth Jorgensen voted for J as her first choice and D as her second choice. She said, "I voted for these because they are the two I would be most excited to place out at a party or on my dinner table. They are the two I was most excited to eat from."
General manager of the Mullett Ice Center Craig Peterson voted for J as his first choice and H as his second choice. 
Board J started with white cheese placed down on the left of the board and then slices of salami to the right of the white cheese. There then was cheddar cheese that was cut with ridges giving it a unique pattern to the right of the salami. Next to the ridged cheese there were two lines of salami rolled up and in between a few crackers. In the middle of the board there were slices of green apples placed perpendicular to the board. The same was replicated on the right half of the board going backwards. There were graped that were placed along the edge of the board and sporadically. Along with four whole strawberries in front of the salami roll ups. 
Board H had the food place like an animal. With apples in the middle to the outside cut so it looks like the pieces are getting smaller. There were Strawberries shaped like pyramids and blueberries in the middle. There was cheese going along the outside with salami then in front of it. 
Winners, as of now, are TBD.