Jim Albers Always Knew He'd Go Into Education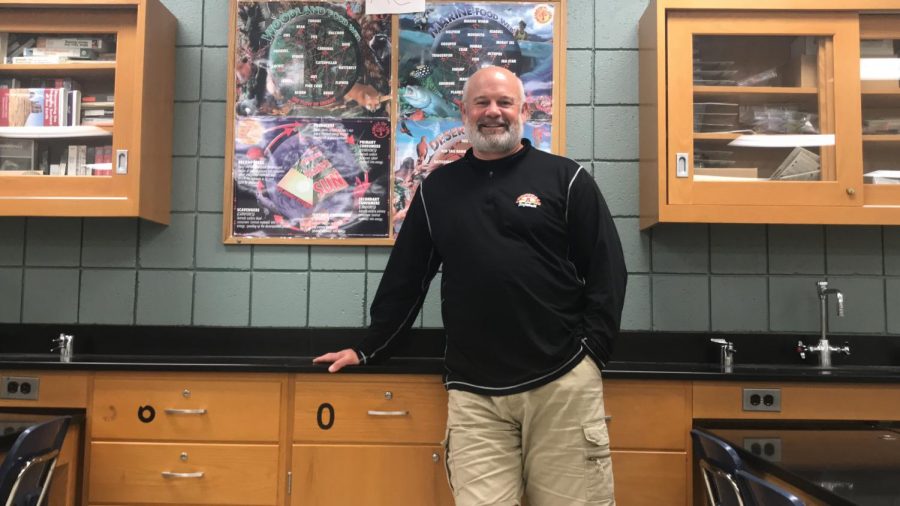 Jim Albers has taught for 31 years, 29 of them at Arrowhead High School. Before Arrowhead, he taught in at Kirkland High School in Kirkland, Illinois, in a smaller K-12 school in north central Illinois, at the high school level. He taught every class in the science department.
At Kirkland, Albers taught chemistry and two different biology classes to the school of 120 students.
At Arrowhead, Albers currently teaches Environmental Biology and Sophomore Biology of about 145 students in his science classes. He goes to South Campus to teach sophomores for biology. This year is his first year teaching biology in three years. He's spent most of his career at North Campus and occasionally had to teach a Biology class.
During his time at Arrowhead, he says he has enjoyed extra curricular activities and the vibe he gets while in school. He says while even in high school, he knew he would go into education in some variety.
Albers said it's hard to say if one person inspired him. He says he's always enjoyed high school and education and valued learning. He continued that in his adult life. He describes himself as a social person with a passion for teaching.
His sister is also a teacher, but retired two years ago. She taught elementary art in Milton, Wisconsin.
"Looking back, I would say she made it easier for me to choose my path. [I] don't come from [a] family of teachers. But my sister who you know was always into art and decided to be an art teacher. [She] made it easier for me ot make my decision," he said.
She gave him awareness of the path of teaching.
"Maybe making decision to be a teacher made it easier to make the decision," he said.
The decision for him to be a teacher was made early in high school. He says it tied into the fact he enjoyed high school. He enjoyed the learning process and enjoyed the social aspect of it.
Albers majored in biology education in college. He took natural resources classes and biology classes.
In his first year in college, he started at UW-Rock County. He didn't know what he wanted to major in. According to Albers, he ended at University of Wisconsin-Whitewater and took a class that had probably the biggest impact in career. He took the class "Nature Study." He thought he was going to go into physical education, but took a nature study course afterwards and it changed his mind.
He spent one year at UW-Rock County and basically took care of general studies courses and then during his second year, transferred to Whitewater where he played baseball. When he was at Whitewater, that's when he realized he wanted to go into Biology Education.
"I never made the relationship between Biology and what I had passion for," said Albers,
In the class, they took bus trips and walks everyday to identify things outside. Something clicked right then. He took biology like everybody else. According to him, he didn't get biology. He also didn't get biology was always a passion he had for. He enjoyed hunting, fishing, being outside, the natural resources. When he was in high school, he never made a connection between sophomore biology and the biology he had a passion for. He says it was until he took the nature science class when a light went on and clicked.
"This is it, this is what I wanted to do," he said.
Along with teaching, Albers coaches softball as Varsity Assistant. He is at practice from either 3-5pm or 3-7pm. He has been a softball coach for 31 years. He was also the earth club advisor. He said it existed and faded away. Now, it's the second year back after not existing for three years.
In earth club at Arrowhead, the club has done buckthorn cutting out in school forests, planted five trees on campus, helped clean up after homecoming parade. Recently, they sold bracelets to raise money for water filters to be sent to Africa. They had some stuff coming up for earth day.
According to Albers, there aren't really obstacles when in school. He took a semester longer than he probably should have only because all credits weren't necessarily needed for graduation. Since he went for a semester longer, he graduated a semester later.
He says his favorite part of teaching is trying to get kids into natural resources, trying to open kids' eyes to understand significance and importance of the natural resources of the future.
"When kids have the spark in that, it seriously motivates me," said Albers.
He says he tries to get kids aware and understand their surroundings, their natural resources surroundings, the impact natural resources have on them personally as well as in the future.
Albers says the obstacles with teaching is people understanding how truly difficult it is what teachers do.
"A lot of people remember high school and remember teachers and remember good teachers. [They] know how easy it made it looked, how enjoyable the class was. People don't always necessarily understand how difficult it is," he says.
"If I could change one thing, it would be having people understand how difficult it really truly is what we do. We make it look easier what we do," he said.
He says he and other teachers do many things outside of the classroom. "The amount of time, energy we spend away from kids. In things, in meetings, in collaborative things, sometimes take away from things in the class," he said.
His typical routine for the day is he gets here around 7 in the morning. He physically prepares for the school day the day before. In the morning, he said he mentally puts himself together in accomplishing things for the day. He makes sure no emails have came in, that he addressed everything before the start of the day. He uses most of his prep periods for grading.
"Sometimes it spills over. Time management is a big big plus in this profession," he says.
"What we do is very unique. You know, obviously when you have 150 students, you'd like to reach out to 150. But there are some kids you can have a little bit more a relationship with that they feel open to share about some issues and problems they talk about. [You] have to be careful. [It's] one thing to be a set of ears, not a set of guidance counselors. [You] help kids, direct them to seek some of [the] answers they're looking for," he says.