Camp Whitcomb/Mason Looking for Summer Employees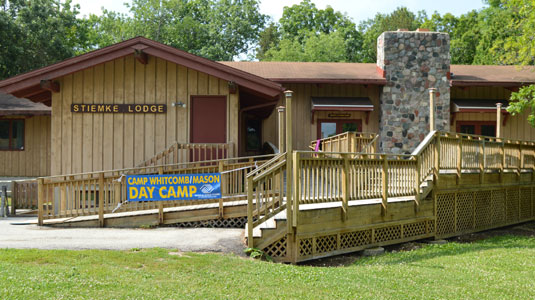 Camp Whitcomb/Mason is a facility open year-round in Hartland that hosts field trips, summer camp, and other events. They are currently looking for high school students to fill various positions for the summer.
During the summer, Camp Whitcomb/Mason holds three programs: Day Camp, Overnight Camp, and Community Partners.
Molly Modrzynski, the Director of Camp Programs at Camp Whitcomb/Mason, says, "Our Day Camp Program runs for 10 weeks, starting June 10 and ending August 16. Campers can come to Camp for just one day, or the whole summer." She says the camp typically hosts 30 to 60 daytime campers.
Camp Whitcomb/Mason's Overnight Camp lasts seven weeks, including two weeks of field trips. Campers come on Monday and leave on Friday. During camp, many activities take place including the following: "pool, waterfront, nature, arts and crafts, garden, petting farm, adventure based learning (high challenge course), and outdoor living skills," Modrzynski says. "Community Partners over the summer essentially use us as a landlord and rent our lodge. They don't interact with our campers, but do occasionally cross paths as they are headed to the pool for some swim time."
"Camp Whitcomb is one of the highest paying summer camps in Wisconsin," Modrzynski says. During the 11 weeks that the camp takes place, employees will be paid $3,300; this including onsite housing and meals.
The camp is looking to fill the following positions for the 2019 summer season: lifeguards, male overnight camp counselors, male and female day camp counselors, an outdoor living skills specialist, a high challenge course specialist, a garden specialist, and a photography specialist. Anyone 17 and older who is interested can apply here (type "Hartland" in the search bar).
Lifeguards would watch kids while they swim and would lead activities at the pool and waterfront. They just need to know how to swim, as certification will be provided from June 3 to June 6.
Male overnight camp counselors would stay at Camp Whitcomb/Mason Monday through Friday if they are 17 and younger, and counselors who are 18 and over can stay over the weekends. Their job will be to " work directly with a co-counselor and sleep in a cabin with youth. Cabins are split by age with 8-12 campers per cabin.  Counselors lead campers and participate with them in each activity," Modrzynski says.
Male and female day camp counselors have a minimal overnight stay requirements and they will lead campers in activities throughout the day. The outdoor living skills specialist will be "creating programs for campers ages 7-14 and would attend our two adventure trips," Modrzynski says.
The high challenge course specialist would be, according to Modrzynski, "responsible for our high challenge course and help with our camping program. [This role] includes certification." The garden specialist "would be responsible for creating programs for campers ages 7-14 and would work closely with volunteers from Kettle Moraine Garden Club.  Need to be knowledgeable regarding how to water plants and pull weeds."
The photographer would take pictures of campers doing activities. More detailed information about each role can be found on The Boys and Girls Clubs of Greater Milwaukee website.
Kendall Bennett previously attended Arrowhead, and is currently a student at Fordham University in New York. She worked at Camp Whitcomb/Mason for the past two years as a cabin counselor and a garden specialist and plans to come back this summer to work as the Village Coordinator. She says, "My favorite part about camp is the campers, because we as a staff would be nothing without them…They have taught me more about humanity, joy and patience than I could have ever imagined before working at camp."
Bennett's favorite place at Camp is the garden. She says, "I worked as the Program Specialist for the garden last summer, and it was some of the most fulfilling work I have ever done. I had two main jobs: the most important being to cultivate, harvest, and care for the large garden near staff apartments.We grew all sorts of healthy and wholesome goodies: peas, beans, bell peppers, tomatoes, zucchini, cucumbers, radishes, kale, eggplants, and we even had an herb garden where campers could immediately try things like rosemary, mint, stevia, cilantro, and more. In addition to maintaining the space, I wrote two lesson plans a week which I executed with all ten cabins, a total of 20 programming hours a week. These programs occurred throughout the day and were meant to familiarize the campers with the garden and everything it is capable of."
Bennett says she participated in fun activities during camp including "making homemade toothpaste from garden ingredients, going on composting worm hunts, making salsa and guacamole from the garden harvests, learning how to recycle, and even making pickles."
Bennett says, "Working at Camp Whitcomb/Mason has been the most transformative experience of my life. I have met lifelong friends, learned about experiences very different from my own, and challenged myself in ways I could have never imagined."
According to the American Camp Association, working at a summer camp will improve your oral communication skills, critical thinking and problem solving skills, leadership, and creativity. It can also be included on resumes and college applications.
Modrzynski says working at Camp Whitcomb/Mason also gives students "the opportunity to make friends from all over the world (we hire international staff too), work outdoors, work with youth, [and there's] no need to do dishes or cook for yourself, as you eat meals at Camp. It is said that working at Camp is the hardest job you will ever love. Our alumni feel that rings true!"
She says, "We are looking for candidates that have experienced working hard jobs and have stuck through it; someone who is willing to put the needs of others before their own.  We are also looking for flexible people that can adapt to last minute schedule changes, [such as] weather, camper or staff illness, or shared equipment."
Modrzynski says, "My favorite part about Camp Whitcomb/Mason are the moments that are not scheduled. I love the moments when a camper catches their first fish, or makes a new friend. I also love the end of the summer when campers tell a staff member how they will never forget them and they changed their life forever."
Bennett says, "At camp we always talk about camp magic, and how best to cultivate it for the campers. Camp magic is something that is bigger than all of us, either at camp, in the off season, or after we leave CWM for good. Camp magic is the fact that there is a place where you can go, even only for a week, where you are unconditionally supported and loved, no matter who you are. Camp magic makes people feel safe, and it brings them back."