Terri Carnell Became a Teacher Because of Teachers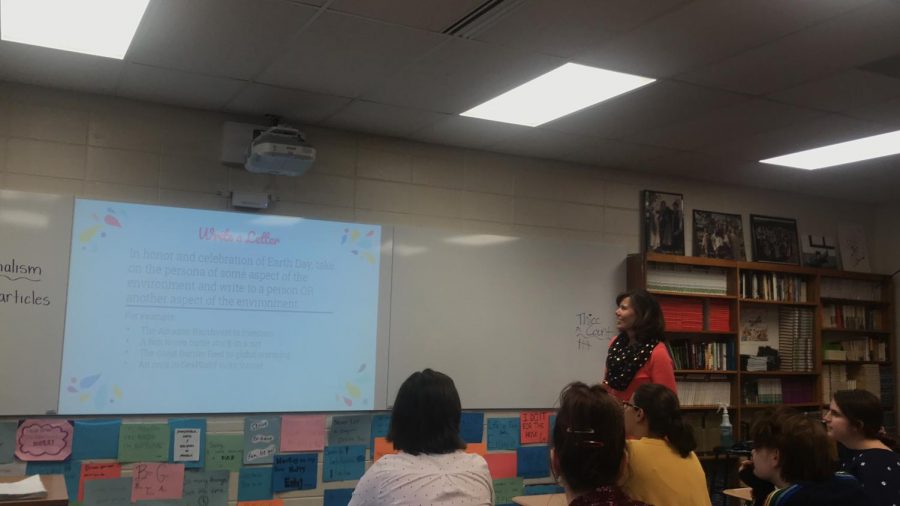 Arrowhead teacher Terri Carnell has been a teacher for a total 27 years, 18 of them at Arrowhead. Before coming to Arrowhead, she taught eighth through 12th grades at Stoughton Middle and High School, which is a little south of Madison.
This year at Arrowhead, Carnell teaches freshman English, sophomore English, Composition, and Advanced Composition.
At Arrowhead, she has also taught College Strategies. At Stoughton, she taught Speech, American Literature, and British Literature.
She said Mrs. Weigand, her fourth and fifth grade teacher, inspired her to become a teacher.  Mrs. Weigand had learning centers all over her elementary school. There were coloring activities and fun writing assignments students could take home over the course of the month. Carnell laughed and said, "I would take them home on the first day and do them all. My teacher was like 'okay I'll make some more.'"
Carnell smiled and laughed and said she's still in contact with her today which is, "kinda fun."
During her senior year, she had a teacher she liked as a person. But she said that teacher didn't really read the papers she wrote or instill the passion for reading and writing in the classroom, which Carnell didn't like because she loves English. Once she graduated from high school, she was all for it. She says she was always set to become a teacher.
Carnell said she also loved anatomy. For a while, she wanted to be a physical therapist. She went to University of Wisconsin-Madison for one of her high school classes—Advanced Biology—and worked on cadavers.
"The professor ate a bologna sandwich while he asked us to find different parts and that grossed me out," she says. So, she decided to follow her heart and go into teaching.
Carnell says she has always loved school. She lived on a farm and loved "being social at school."
She says she loved reading and really liked science.
Carnell said her roommates changed their majors while in college, but Carnell never changed hers. She majored in education at UW-Whitewater.
She said her first teaching job was "kinda funny." She went in for an interview to be an eighth grade teacher at Stoughton and they said she got the job. She was expecting she would start the next year, but they said, "You start tomorrow." Three people quit that year so they needed a new teacher immediately.
"I stayed with the eighth graders through high school for all four years," she says.
Carnell recalled a crazy moment in her career at Stoughton when she and her class were locked in the classroom for about three hours. The custodian let them out. She said another crazy moment while teaching was that somebody ate a whole piece of chalk when she was teaching a senior class.
Carnell said her favorite part of teaching is getting to know the kids. She likes to be around people and interact with them.  
"I like hearing their stories, seeing the lights go on in their heads, and helping them increase their confidence," she said.
She said teaching keeps her busy. She said it's especially busy teaching writing because it's never done. She said she never gets bored when in the classroom.
Carnell says her typical routine is to prepare and plan at night and to try to give feedback ahead of time. In the classroom, she starts with a game. She has different games for every class. In her writing courses, students start with quick writes. According to her, she likes to change things up a bit, so she does different activities each day.
She says she finds the balance at home to enjoy her family and prepare for the next day. "You find a system that works. I don't have to have every single thing done everyday," she said.
Carnell said her brother and husband went to University Wisconsin-Whitewater. Her oldest son, Travis, is now a sophomore there as well. Travis graduated from Arrowhead in 2017. She also has two younger sons:  Mason who is currently a junior and Tyler who is in 7th grade.
In addition to her teaching responsibilities, she is also a co-writing club advisor with English teacher Elizabeth Jorgensen. Carnell also sends out Word of the Week emails, and mentors one student in Check and Connect.
The Word of the Week is a word chosen to educate students and to expand their vocabulary. It is typed on a Google Doc with the pronunciation, definition, synonyms, antonyms, a picture, and an example of it being used in a sentence. Carnell emails the Doc every week to Arrowhead staff and students.
Check to Connect is meeting with one student throughout the year to act as their advocate. She says, "We help them with whatever they need, checking on their grades, letting them know that we care."
Carnell says she's also an outlet for students. She says some students will come in during sixth hour lunch everyday and talk about things going on in their lives.
She says, "Teaching English lends itself to getting to know people, knowing the students by their writing because they write about things they're passionate about. It's not just about the English skills. It's really about life."
"The best part of teaching is the people. I learn from the kids and I hope they learn from me," says Carnell.