Arrowhead Introduces New South Campus Library Aid: Heidi Blatnik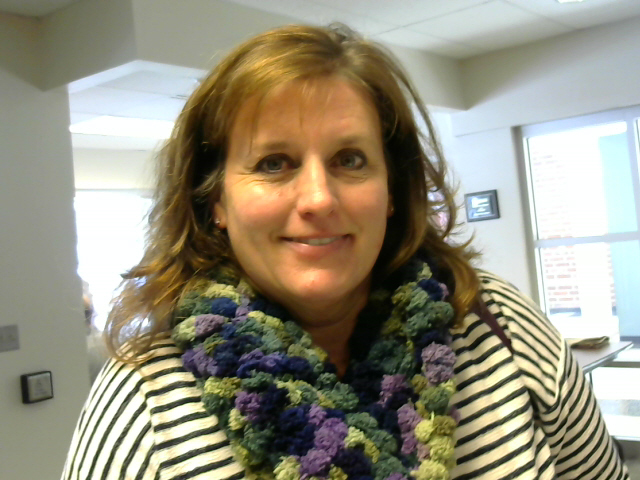 On February 19th, Arrowhead's south campus announced the hiring of a new library aid. Heidi Blatnik and her husband Todd are the parents of three Arrowhead boys. Two graduated (Todd Blatnik in 2012 and Justin in 2014) and one a freshman this year (Nick).
According to an email received from Donna Smith,  Director of Library Media & Technology at Arrowhead, Blatnik likes hiking, various water activities, baking, and spending time with family.
Blatnik now works in the library helping control kids in study hall. She also spends her time organizing books.
Blatnik previously worked at Merton School, a feeder of Arrowhead.
"I was the Merton Athletic Association Activities Director. I had been with MAA for over 20 years either as a participant, volunteer or employee.  I decided it was time for me to expand my horizons," Blatnik says. "The other things that factored into my decision to find a new job was the need to get out of my house. I have been working from home for nearly 10 years. I wanted more face time with people."
Blatnik mentions her family dog and how she was "tired of hearing a ball bounce at my feet and then getting growled when I didn't throw the ball quick enough. My dog constantly wants to play, which gets tiresome after eight hours of it every day. Far warning, if ever come to my house, be sure to shuffle your feet. You never know when there will be a ball, bone or toy rolled under them."
Blatnik says she loves working with people, this being another reason why she started working at Arrowhead.
She says, "One of the favorite things about my previous job was the interaction I had with the participants in our programs. Now I get to interact with people everyday."
She says she enjoys meeting new people at Arrowhead and she thinks "everyone (staff and students) is really very nice and great to work with.  It has been fun learning and listening everyday."
When asked if she thinks students and staff like her, she says, "You would have to ask them that. All I know is that I am usually smiling or laughing when I am done speaking to them;  in my head, I am really funny, not sure they would agree."
Blatnik says her experience at Arrowhead has been very positive so far. However she mentions a struggle is waking up early to get to school on time.
She says, "I am a night owl, so waking up and having to be at school by 6:45AM is really early."
As for how her freshman son, Nicholas Blatnik, feels about all of this, she says, "No comment. He is now just starting to speak to me again."