Winter Sports at Arrowhead High School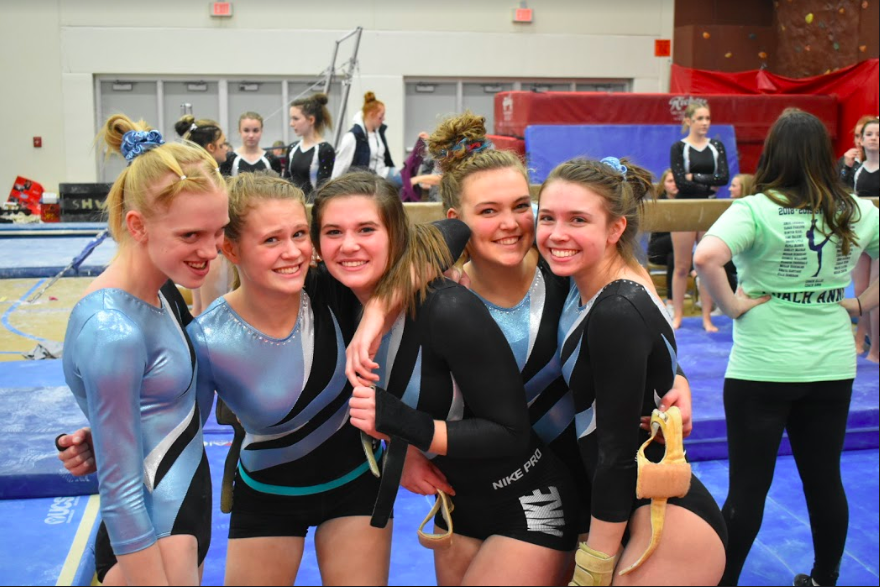 As winter approaches, winter sports are beginning to start or have already started. These sports include alpine ski teams, boys and girls basketball, boys and girls ice hockey, boys swim and dive, girls gymnastics, and wrestling.
The Arrowhead website says the no-cut ski teams "compete against other Wisconsin high schools in races held in January [and] February." The races take place at ski hills near by, like Alpine Valley, Holy Hill, Little Switzerland, and Sunburst on Wednesdays and Thursdays beginning at 6:00 pm.
Practices are mandatory every Monday at Holy Hill and optional on Sundays. An informational meeting was held on Tuesday, October 30th, and a pizza party took place on December 4th. The first practice was on December 11th and involved cross training by roller skating from 3:30 to 5:30 pm. The first race is on December 15th at Little Switzerland from 7:00 AM to 2:00 PM.
Arrowhead guidance counselor Todd Reineking, who is also the ski team head coach, says, "This winter's cold start has produced great surfaces on the local hills. Our team kicks off their season on Saturday, December 15th, with a Memorial Ski Race to honor Arrowhead's own JT Hilligoss…The proceeds from the race are awarded by scholarship to area students."
According to Find a Grave, James Thomas "JT" Hilligoss was an Arrowhead student who died unexpectedly in his sleep at 17-years old. He was on the track, football, and ski teams and he helped Arrowhead's ski team win the state championship.
Another winter sport is boys basketball which consists of varsity, JV, and freshman teams.
The AHS website says their methods of coaching stem directly from concepts including humility, respect, unity, passion, and communication. Their mission is to "teach the fundamentals of our defense and offense, to accept our role in the program and be willing to make our program the best, [and] to make sure that we are prepared."
Basketball coaches held open gyms for boys all throughout the year, beginning September 10th.
On November 12th, interested boys tried out for the teams. Practice began two days later. Their next varsity game is  on December 18th against Catholic Memorial.
As of December 11th, their record is 5-1.
Varsity boys basketball coach, Craig Haase, says, "We off to a good start at 4-1 with big conference wins over Kettle Moraine and Oconomowoc. We also have had great the opportunity to play at the UWM Klotsche Center and at the new Bucks arena the Fiserv Forum. While playing at the Fiserv Forum, senior Jacob Boray set the all time school record of taking four charges in one game."
Girls basketball, similar to the boys program, consists of varsity, JV, and JV2 teams. Girls basketball is no-cut.
The AHS website says, "The Arrowhead Girls Basketball Program views itself as an instrument of Arrowhead High School's 'One Team' philosophy…Moreover, we strive to develop strong young women both physically and mentally."
Girls basketball held open gyms throughout the school year, and practice began on November 7th. Tryouts were November 5th and 6th.
Their current record is 3-3 and their next game is December 18th at Catholic Memorial.
Rick Witte, the varsity girls basketball coach and an Arrowhead math teacher, says, "The girls team works crazy hard. They've been in the weight room and on the basketball court working hard to prepare for another fun season. We work hard to have stage four and five responses and we also work to help those around us have great responses as well. We will do that as much as we can, embrace and learn from failure and be thankful for another opportunity to play together. Should be another fun season."
Boys ice hockey is coached by Carl Valimont and consists of varsity and JV. The teams practice at the Mullet Center.
The Arrowhead website states, "The Junior Varsity practices each morning and the Varsity is on the ice from 4:15-5:15 pm each weekday afternoon during the season. Each team also has one hour of dryland-weight training."
The teams "…each carry 18-21 boys and play the maximum 20 game regular season."
Valimont says, "The Arrowhead boys hockey program only has four seniors so we are very young and inexperienced at the varsity level. The players work hard daily to improve and they are improving. We are a work in progress as they say."
Games take place on Tuesdays and Saturdays.
Girls ice hockey consists of varsity and JV. Girls varsity plays in 21 games and/or tournaments throughout the year. The next game is December 15th at Wisconsin Valley Union at 6 pm.
Boys swim and dive practices began on November 12, 2018.
The Arrowhead website says, "Our program has proven itself to be a consistent winner. Each year we look to be at our best competitive level as individuals and a team at every meet leading up to the championship season.  We challenge ourselves to be the best in the Classic Eight Conference as well as number one at the WIAA sectional and state championships.  Our number one goal, though, is to be the best TEAM  all season long that we can possibly be."
Girls gymnastics is no cut and consists of JV and Varsity. JV and Varsity practice together every week day from 3:15-5:30pm.
All gymnasts have competitions on Thursdays and varsity competes on Saturdays. The first home meet was on Thursday, December 6, and the varsity competed on December 8th, placing second.
Arrowhead website says this about the gymnastics team: "The events used in high school gymnastics are the vault, uneven bars, balance beam, and floor exercise.  Athletes can compete in the All-Around (all four events), or be an event specialist.  It is the goal of the Girls Gymnastics Program to give all athletes a positive experience that will help them grow as both a student athlete and as an individual.  Gymnasts at Arrowhead will develop a work ethic that shows a commitment to their sport, as well as to their team."
Arrowhead's wrestling team began practicing in November with varsity, JV, and freshman teams.
The Arrowhead website says, "In the past thirteen years, the Warhawk wrestling team has become a Classic 8 Conference power crowning 62 conference champions and claiming conference tournament titles in 2003, 2004, 2005, 2006, 2008 and 2010. 74 Warhawk grapplers have advanced to the WIAA Individual State Tournament with 42 claiming medals, 20 State finalists and 12 Individual State Champions. The Warhawks advanced to the WIAA State Team Tournament in 2004 – 2008, 2011 & 2012. They were a semi-finalist team in '04, '06 and '08 and in 2005 and 2011, they were the WIAA State Runner-up."