Six Arrowhead Students Published in Teen Ink's December Issue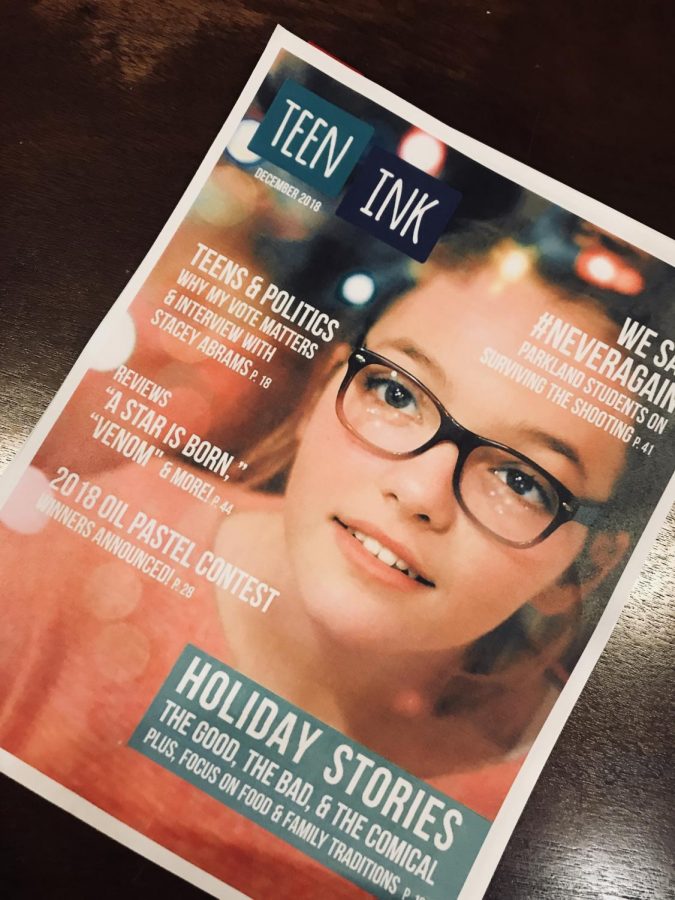 Teen Ink is a monthly magazine written for and by teenagers. The December 2018 issue contains work from six Arrowhead students.
The short stories of Arrowhead seniors Sam Nobile, Jackson Ashby, Mason Hofstetter, Ben Klein, and Olivia Glaessner were all published in Teen Ink this month. Additionally, a photograph taken by Arrowhead junior Kyah Bratz can be found in the issue.
Elizabeth Jorgensen, a Creating Writing teacher at Arrowhead, has her students submit their work to different writers' markets. One of her favorite writers' markets is Teen Ink.
Jorgensen says, "This year, dozens of my students have already received Editors Choice Awards from Teen Ink. On top of that, to have this many students published in one edition of Teen Ink is so awesome. I don't think I've ever had this many students published in one issue. This speaks volumes about quality of my students' work as well as their creativity and attention to detail."
Hofstetter wrote a piece on his mother's homemade brownies. When his teacher, Jorgensen, told him they would all be writing a story about food, Hofstetter knew he'd be writing about his mother's favorite dessert right away.
Hofstetter said, "When Mrs. Jorgensen told us we would be submitting pieces of our work to Teen Ink, my heart sank. I hate showing other people my work."
At first, becoming a published author for Teen Ink wasn't on Hofstetter's radar. He believed his writing wasn't mature enough to make it into the magazine.
But when Hofstetter found out he was published, he says he was extremely satisfied with how far he had come. He says being published helped prove himself worthy to people who had previously put him down. Hofstetter says he now submits to Teen Ink after every Creative Writing assignment.
Glaessner's piece on Sanibel Island in Florida also made its way into the December issue of Teen Ink.
Similar to Hofstetter, Glaessner knew what she was going to write about right as the topic was announced. When she was asked to write about nature, she says she thought her favorite spot to get away. She says Sanibel Island holds many memories as she has been going there since she was born. Glaessner says the place is full of beauty and positive energy.
Glaessner said, "My parents had received an email from my teacher at the beginning of the year saying how well I was doing in the class and recommended that they read some of my pieces. I pulled up my Teen Ink page on my laptop and went through my pieces to see that one of them was published to the magazine. Technically my teacher didn't inform me about [being published], but I found out on my own which was a shock. My mom started screaming and yelling because she was so excited. It was an exciting moment for me."
Initially, Glaessner said she didn't expect to get published. She believed she wasn't a great writer. She says her piece didn't seem that special to her.
Glaessner says, "Of course I would submit to Teen Ink again. I think it is a great way for teens to get themselves out there as a writer. I think I will still publish my writing to Teen Ink next semester, when I am no longer in this class."