Arrowhead High School Plans a Trip to Thailand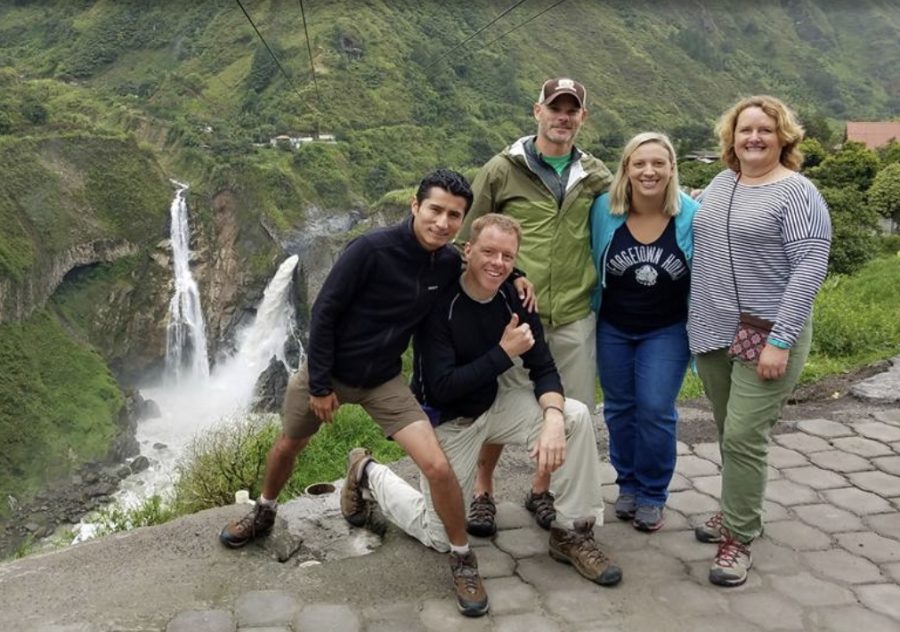 On Friday, November 16th, Arrowhead released an announcement through Canvas about the third consecutive global service trip offered for social studies students.
In 2017, the social studies department took about 30 students to the Amazon in Ecuador to help build a water purification system. It was for a small village. In the summer of 2018, Arrowhead students traveled to Tanzania in East Africa where they helped build a school and went on a safari.
For the 2019 summer trip, any Arrowhead social studies student in good standing is able to take a survey to request more information on Thailand, according to the Google Docs attachment. All the info was sent through the Google Docs attachment, the brief Google Presentation, and the Parent Copy of Thailand Info Google Presentation.
There was a parent meeting on Wednesday, November 28th at 6:00 p.m. in the North Campus junior study hall. At this meeting, parents learned the trip will be filled with adventures and service.
Chris Herriot, the Arrowhead social studies Teacher and Boys Track Coach, said the cost for the trip is $4,010.
According to the brief Google Presentation, students who go on the trip will visit an elephant sanctuary and have the opportunity to help construct environmentally friendly shelters for the elderly utilizing materials like styrofoam that would be otherwise discarded.
"Two years ago we went to Ecuador. Last year, Tanzania. This year, Thailand," said Beth DesRosiers, AP Psychology teacher, in class. "They want to survey all students what they're interested in, different types of service trips."
The survey required a student to enter an email address, first name, last name, social studies teacher(s). It also asks if students are interested in more information: "If you are not interested please help us out by letting us know why. That way we can use that information to offer opportunities that will benefit more students," as it said on the survey
Herriot sent a link to RSVP through Google Forms. Herriot sent another email following up about the meeting on Wednesday, November 28th: "You are receiving this email because you or your son or daughter has expressed interest in joining us this year's service trip to Thailand. Students received a brief introduction about the trip in their social studies classes. They were given basic info about the trip that you can access through this link: HERE."
Herriot says if anyone has questions, they should check the attached information and to attend the informational meeting.
The email went out to 300+ families that expressed interest for the approximate 20 spots.
In another follow-up email on November 26th, Herriot said that 77 people RSVP'd for the meeting.
In a follow-up email on November 28th, the department had surpassed the allotted slots for the trip. The EF Educational Tours, Inc automatically opened a few more spots.
"Chances are someone may have something come up that requires them to back out," said Herriot in the email.
Leaders for the trip are Herriot and Shanna Hechimovich, another social studies teacher.
According to the Parent Copy of Thailand Info Google Presentation that was presented at the meeting on Wednesday, Herriot has been at Arrowhead for 17 years. The upcoming trip will be his third service trip. Hechimovich has been at Arrowhead for 16 years and is the Social Studies Department Head. She is also the softball coach. This is her third service trip.
The trip to Thailand is a ten-day tour. The exact departure date and return dates will be confirmed closer to the tour. The earliest departure is Sunday, June 16th, 2019.
According to the Parent Copy Presentation, Arrowhead's travel partner is EF Educational Tours.
According to the Parent Copy Presentation, EF (Education First) provides the group with a 24/7 tour director, local presence, 24-hour emergency line, a Peace of Mind Policy, and support for safety policies.
On the Parent Copy Presentation, there is a section that says "A look at a day on tour" that includes what students/leaders regular day look like. In the morning, they will enjoy a regional-style breakfast and then head to a local village to begin the service project. In the afternoon, they will grab a traditional lunch and immerse themselves in cultural activities with the locals. In the evenings, they will have chances to reflect, discuss events, and draw connections between the day's work and relevant global issues. Before bed, they will reflect on the day and write thoughts in their EF-Field Journal.
Included in the trip are the following: a guided visit to Wat Phra That Doi Suthep, full day at Elephant Nature Park, two days living and working with a local community, Chao Phraya boat tour, a visit to the Grand Palace, and a guided excursion to Ayutthaya.
Included in the trip is round-trip airfare, accommodations, 24/7 bilingual Field Director, ground transportation, educational itinerary, guided tours and activities, breakfast & dinner daily, 24/7 on-tour assistance, traveler support team, a project with a local organization, certified service hours, leadership-building activities, and a travel backpack.
Things that the families/students need to cover are as follows: passport and Visa Fees, spending money, lunches (meat will be included) and snacks, airport baggage fees, and tips ($10 a day).
Flights depend on availability. If the group travels west, it'll be 8,553 miles. If east, 8,031 miles.
There were 20 limited spots available. To enroll, one can visit eftours.com by Friday, December 7th.
Herriot sent out a follow-up email, after the meeting, on November 29th to those interested in the trip. "Wow! I am floored at the outpouring of interest for service learning at Arrowhead. Last night's meeting for Thailand exceeded our expectations yet again.  By the time I arrived home, we already surpassed our allotted slots for the trip. Thankfully EF automatically opened up a few more spots and we were able to take on few more travelers.. I have not yet received a message that it is full so there may be a spot or two left. If you are interested and it fills up, remember you can get on the waitlist. Chances are someone may have something come up that requires them to back out."
"Thank you to the travelers who have signed up. I cannot wait to see what adventures lie ahead for us in Thailand," he said in the email.
To those who couldn't make it this year, he assured them they will have another offering in the upcoming years.
"On another note, if this just wasn't the right time or the right trip for you, we will most likely have another offering in the upcoming years. This is our third consecutive service trip and they have been wildly popular. As long as the interest remains high our intention is to continue these opportunities," said Herriot in the email after the meeting.