Arrowhead Students Awarded for Haiku Poems at 2018 Japan Fest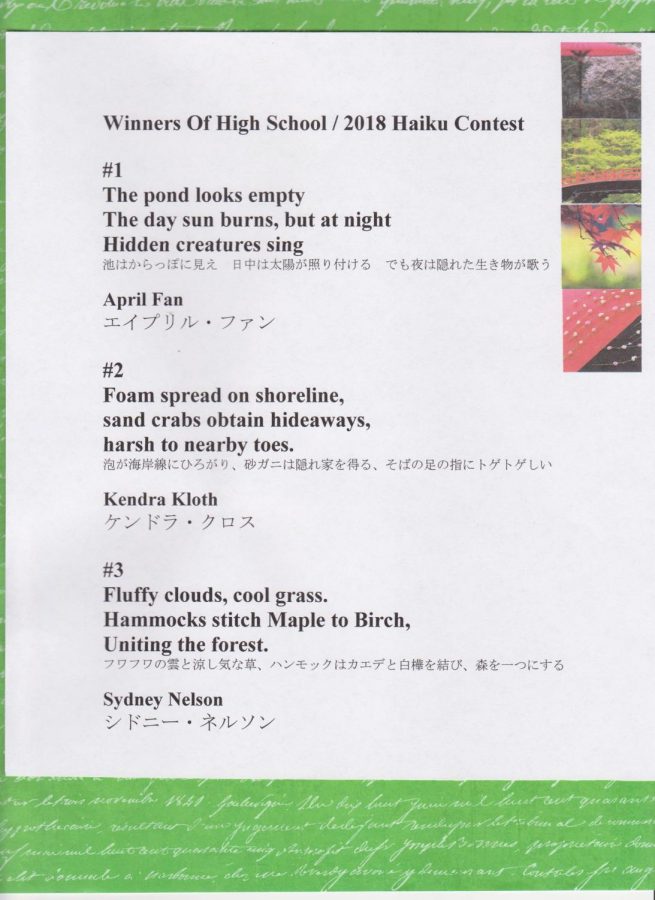 On Sunday, October 21st, Japan Fest was held in the Franklin High School Cafeteria. At the event, the Milwaukee Haiku Club displayed winning submissions from their Haiku competition. This year, the top three places went to Arrowhead students.
Japan Fest is an annual event where people join together to celebrate Japanese culture. It took place from 12:00pm to 3:30pm and was organized by Milwaukee Japanese Association.
According to the Milwaukee Japanese Association, over 850 people attended the event. Along with the haiku display, the event also included stage performances, karate lessons, traditional Japanese foods, games, and other events and activities.
April Fan, a senior at Arrowhead, came in first place in the haiku competition. Kendra Kloth and Sydney Nelson, Arrowhead juniors, took home second and third place, respectively.
According to Dictionary.com, a haiku is, "a Japanese poem of seventeen syllables, in three lines of five, seven, and five, traditionally evoking images of the natural world."
The students were encouraged to enter their poems by their Creative Writing teacher, Elizabeth Jorgensen, during their online summer class.
Jorgensen says she tries to provide her students with real audiences and reasons to write. She chose the haiku writing contest as a way for her summer students to express themselves and practice writing poetry. Jorgensen wanted them to write for someone other than their teacher.
"I hope the students who took advantage of this opportunity enjoyed the experience of writing for a competition," says Jorgensen.
Fan, the first place winner, says she has been writing on and off for some time. She said she enjoyed taking Creative Writing online this past summer because it broadened her horizons and made her focus on her writing again.
"It got me to start experimenting with different forms of writing that I had never thought of before. The different authors that we looked at all had beautiful writing styles that inspired me to incorporate different expressions and metaphors into my writing pieces," Fan says.
Fan says the guidelines for the competition required her haiku to be about summer. She said the most obvious topic would have been how happy students were to get a break from school. However, Fan was inspired by the calmness of ponds and the creatures that lived within them.  Here is her winning entry:
"The pond looks empty
The day sun burns, but at night
Hidden creatures sing"
Kloth says she was excited and surprised to hear she had been awarded second place for her poem. She says she liked her haiku, but knew their were so many other talented writers who also submitted poems.
Kloth was happy to write her haiku, as the haiku is her favorite form of poetry.
Kloth said, "I prefer writing haikus over other poems, just because it is such a simple structure, and in that I can really be creative with it. It is also a challenge to use extensive vocab in such a compact poem, which I think is fun to work on."
She says she was inspired by spending time at the beach and her love of animals. Here is Kloth's winning entry:
"Foam spread on shoreline,
sand crabs obtain hideaways,
harsh to nearby toes."
Jorgensen says, "Writing is meant to be shared and the very best pieces make a reader think or feel differently. I'm so pleased my summer school students had the opportunity to share their work and talents and be recognized in this way."