AHS Homecoming Brings Week of Activity, Ending with Dance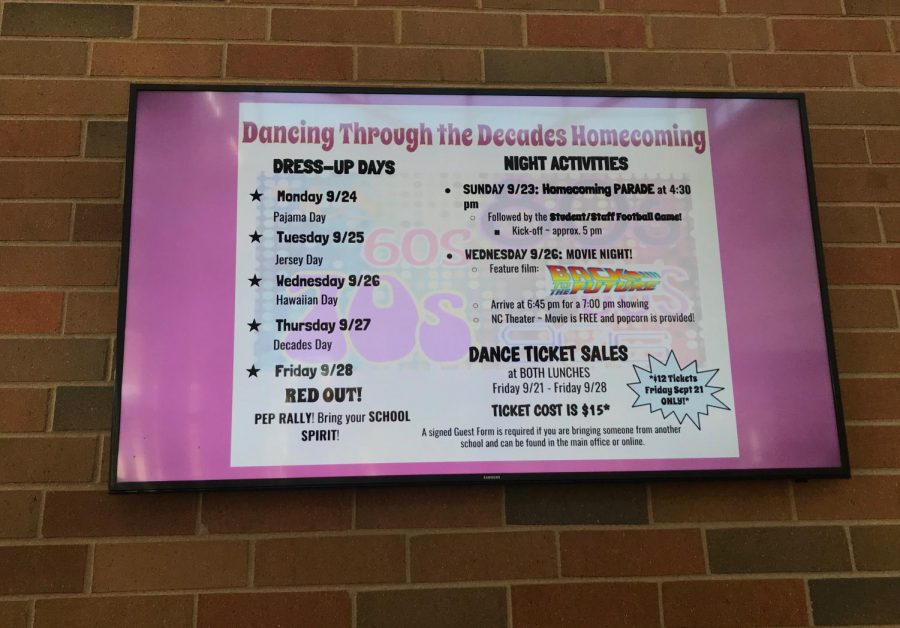 The Homecoming dance at Arrowhead is set to take place on Saturday, September 29th from 7:30 pm to 11:30 pm. The event will be held at Arrowhead High School in North Campus Commons and Gym. Students can purchase tickets at North and South campus from September 21st to September 28th for $15 dollars each.
The Homecoming football game, on September 28th, begins at 7:00pm and is against Waukesha West High School.
Hawkfest, an annual festival held in North Campus parking lot, is before the game. There are games, music, food, and other activities. Admission is free, but students must pay for games.
Spirit Week is taking place from the 24th until the 28th. Themes include Pajama day on Monday, Jerseys on Tuesday, Hawaiian on Wednesday, Decades on Thursday, and Red out on Friday.
Jordan Leoni, a sophomore at Arrowhead, says he is planning on going to homecoming this year. He says he likes to spend time with his friends at the event, as he had attended the event as a freshman as well.
Leoni says, "It's a good experience to have fun at Arrowhead High School."
Abbey Mandick, a freshman at Arrowhead, doesn't know if she will attend Homecoming. Mandick says, "To me it seems fun but I've heard people say it's not worth it."
Freshmen Grace Evenson, Gabrielle Urban, Trey Mcdonald, and Abigail Sinitz say they think Homecoming is simply a fun activity that allows students to spend time with friends.
Sinitz says, "I think Homecoming is going to be an amazingly fun experience, and it is going to be awesome to hang out with all of my friends."
Mcdonald said he cannot attend the dance because he will be on vacation in Pittsburgh.
Savannah Jankowski is a senior at Arrowhead and says she is not planning on coming to the dance. She's gone previous years and she says it's boring, it costs too much, and she's made other plans. Overall, she says Homecoming is, "Not worth it."
Sophomores Payton Banks and Megan Spyers-Duran, have made other plans for the night of Homecoming, because they are uninterested in the dance but still want to spend time with friends.
Banks says, "The Homecoming dance is boring, so my group and I are planning on skipping the dance itself and hanging out instead."
Sophomore Charlie Hutchinson attended Homecoming last year and is planning to take part again this year. However, he has a different opinion on Homecoming. He believes Homecoming has a bias depending on your popularity.
"It's fun, but the social hierarchy should have no place at the dance," Hutchinson says, "…like people need to be more inclusive [at the dance itself] and not just not include someone because they aren't popular. Not an attack on the event itself, but the people going."
Bella Zenker, a sophomore, doesn't know if she's planning on being at the dance. She went last year and she says, "I like hoco [homecoming] but I personally don't think that the music is the best." Despite this, Zenker says she still enjoys getting dressed up and spending time with friends and she recommends going to other high school students.
Lizzie Andrews, a sophomore, also believes the music is not the best. She says they should play "not so many slow songs."
Kristi James, parent of Noah James, a junior at Arrowhead says, "I think homecoming is great. I wish it was as simple as when I was younger. Just ask them with a nice letter. Now I think there is to much pressure on kids on the elaborate ways to ask. It's like a marriage proposal."
Other students including sophomores Grant Luetke, Dylan Writh, Lindsay Krznarich, Brady Russ, and Evan Bartleson say they like the music played at Homecoming.