Arrowhead Scholarship Fund Hosts Annual Dinner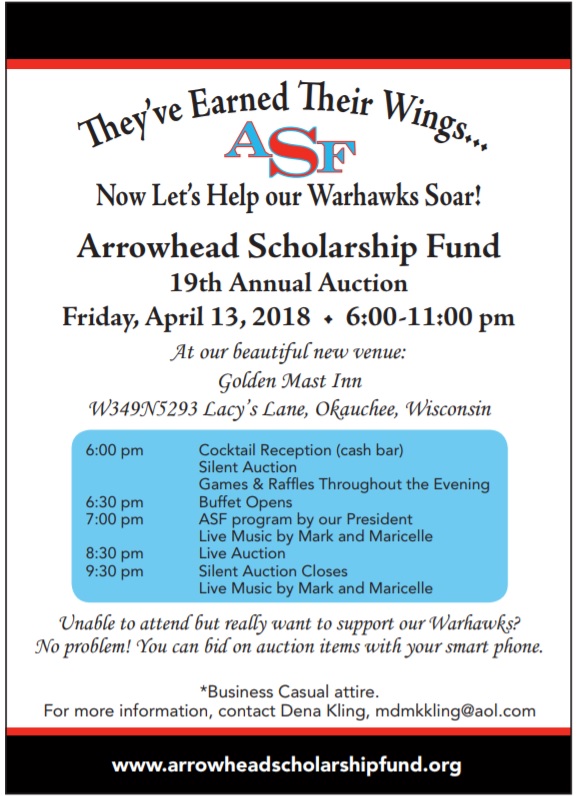 The Arrowhead Scholarship Fund will be hosting their 19th annual dinner and auction on Friday April 13th. Money raised at the event and though the foundation is given to graduating students in the form of scholarship money.
According to their website, the Arrowhead Scholarship fund (ASF) has been working with Arrowhead students since 1958 and became the non for profit fund it is today in 2003.
Since their official formation in 2003 under the name Arrowhead Scholarship Fund,  ASF has awarded over $1,000,000 in scholarship money to over 2,000 Arrowhead students.
The fund's largest fundraising event is the dinner which is hosted every year in early spring. As of 2018, they will be hosting their 19th annual dinner and auction and it will be hosted at The Golden Mast on Okauchee lake. For more information on this please follow the link at the end of the article.
ASF provides anywhere from $500 to $3,000 in scholarships to more than 70 scholarships to AHS seniors each year.
Arrowhead senior Corinne Burkhart said, "I'm glad I applied for the scholarship and spent time filling it out. I hope that something good comes out of it."
Scholarship forms are due in February and decisions on the scholarships students find out out about the scholarships in —-.
According to ASF's website. scholarships are given to based on criteria such as ACT score, GPA, school improvement, extra curricular activities, employment, community service, and letters of recommendation. Innerviews may also be conducted for applicants if decided by the committee.
To find more out about scholarships or apply for the 2019 scholarship. please visit http://www.arrowheadscholarshipfund.org/Scholarship.
This year's annual auction will be from 6:00 till 11:00pm. The night will include an array of events including both a silent and live  auction, games and raffles, and live music.
For more information please contact Dena Kling at [email protected],  and to rsvp to the event please visit http://www.arrowheadscholarshipfund.org/Portals/0/2018invite.pdf