Quiz Bowl Registration Due March 22 at 3pm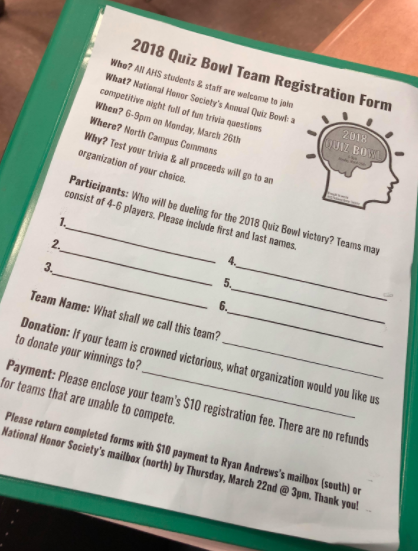 Arrowhead's National Honors Society is hosting their annual Quiz Bowl on Monday, March 26th. All AHS staff and students are welcomed to participate and forms must be completed and submitted by March 22nd at 3:00pm. Forms can be found in the offices at both North and South Campus.
The Quiz Bowl will be hosted in the North Campus Commons on Monday, March 26th, from 6:00 to 9:00pm. The price per team to participate is $10.00 and teams may consist of four to six players. All proceeds from the event will be donated to the winning team's origination of choice.
The team registration form must be submitted to English teacher and NHS advisor Ryan Andrews' at South Campus or to the National Honors Society mailbox at North Campus.
According to the registration form, the 2018 Quiz Bowl is "a competitive night full of fun trivia questions."
According to NHS member Della Gehring, there are eight rounds of the Quiz Bowl including semi-finals, finals, and riddles. The categories participants will be quizzed on include Arrowhead trivia, Disney, sports, and guess the logo.
Gehring said, "The Quiz Bowl is so fun. I participated last year and wish I could this year. I can't wait to see who wins."
According Andrews, this is the fourth annual Quiz Bowl and about 30 teams participate each year.
Andrews said to prepare for the Quiz Bowl, find a well rounded team who can tackle everything from academics to pop culture.