Arrowhead Athletes Wrap up Winter Season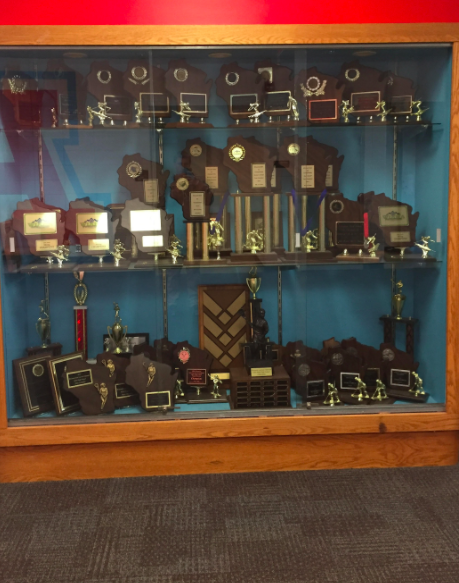 Hang on for a minute...we're trying to find some more stories you might like.
Winter is coming to an end and so are winter sports. Athletes from swimming, alpine skiing and gymnastics have recently finished their season and other sports like boys and girls basketball are coming to an end in the next few weeks as they are in playoffs.
The alpine ski team won the state championship this year just like they did in last year's season.
Senior Nick Von Heimburg said, "It was really nice to finish off my senior year with another state championship…I am gonna miss these guys, this season was one to remember."
The gymnastics team placed second in state this season. Their state championship was held at Wisconsin Rapids high school last week. As the Arrowhead website states, "Gymnastics requires a long commitment from its athletes as our season begins in early November and will go into the end of February.  Athletes are expected to practice 5 days a week, and compete in all scheduled meets. All students who tryout will make the team, but some may not compete in all scheduled meets."
The boys swim and dive team reached state this year. The teams statement on the Arrowhead website is as follows: "Welcome to Arrowhead swimming.  Our program has proven itself to be a consistent winner. Each year we look to be at our best competitive level as individuals and a team at every meet leading up to the championship season.  We challenge ourselves to be the best in the Classic Eight Conference as well as number one at the WIAA sectional and state championships. Our number one goal, though, is to be the best TEAM  all season long that we can possibly be. The team accomplishment goals won't be easy, but it is possible if we continue to be a class team and want it bad enough
The boys basketball team lost Thursday night to Kettle Moraine, 55-60. The game was played at Waukesha North for a chance to advance to the sectional championship game. As stated on the Arrowhead website, "Philosophy:Our team will be built with the concepts listed below as the cornerstones of our foundation. In order to make sure that the foundation is strong we must reinforce these concepts as much as possible. The repetition of these concepts will give the players the confidence they need to be successful."
The girls basketball team is going to state playing Friday, March 9th, at the Ruesch Center in Green Bay. The Warhawks will take on Appleton West at 7:30pm for a chance to advance to play in the State Championship in Green Bay on Saturday, March 10th at 8:30 p.m. If Arrowhead wins, they will play the winner of Mukwonago and Oak creek. In the regular season, arrowhead lost to Oak Creek once and split the season series with Mukwonago 1-1.