Upcoming School Board Elections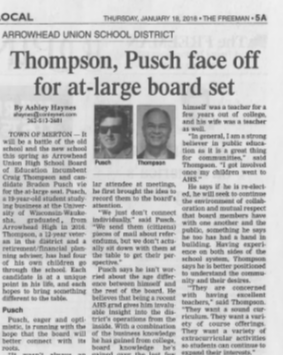 Arrowhead Staff received an email on Monday, February 10th, from superintendent Laura Myrah, regarding information about the upcoming school board election.
The email staff received included information regarding the election including the seats open for grabs, and informed teachers by law that they are not allowed to advocate for how people will vote during work hours.
Myrah also explained that is it not advisable for the school district itself to facilitate meet and greet events of candidates running for the election although there may be community groups that choose to host a candidate forum
. The school board election will be held on April 3, 2018, to fill three school board members seats. The seats up for grab include those representing the Lake Country Elementary District, the Swallow District, and one seat at large
According to the Arrowhead website, each term lasts three years and the following term will begin April 23rd, 2018 and expire on April 25th, 2021.
There are nine seats located on the school board with Robert J. Rosch acting as president and Kent W. Rice as Vice President.
The election on April 3 will fall over Arrowhead's spring break which beings Friday, March 30th and concludes on Friday, April 6th. According to Myrah's email, each election municipality will offer early voting or absentee balloting.
Those who live within the Arrowhead district amd are over 18 are able to vote for the incoing School Board members. According to Myrah  "The voting for school board occurs within each municipality (city, town, village, etc.) where the other governmental elections are held. Usually this means the town or village hall, sometimes churches are used as polling places. Essentially, wherever people voted during the Presidential or other national/local elections is likely where their city, town, or village will hold the voting polls for the April elections."
Arrowhead teacher Chris Martin said, " I live in Sussex so therefore I will be voting for their school board even though I work as a teacher at Arrowhead."