The Radium Girls Take the Stage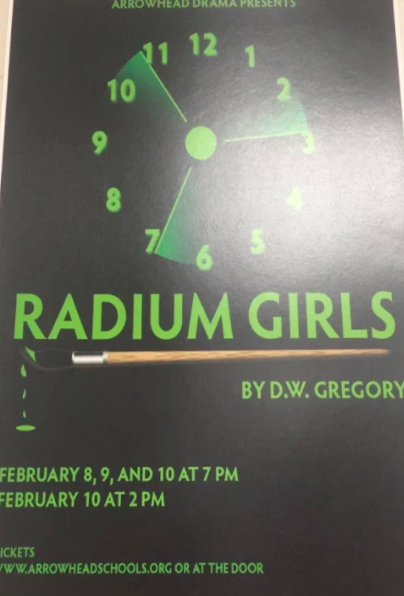 Arrowhead's winter play cast preformed the opening show The Radium Girls this year on February 8th at 7:00pm, with shows on the 9th at 7:00pm, and the 10th at 2:00pm  and 7:00pm, according to the Arrowhead website, people interested can look at the AHS website (http://www.arrowheadschools.org/activities/school_play.cfm) for more information.
There are about 34 students in the play, including cast and crew, according to Maralynn Markano. Markano is the director of this play, theatre manager, stage crew advisor, and AHS drama department director. She has been a teacher at Arrowhead 18 years, and has been involved with the plays since she began at Arrowhead.
How Markano picks a script for the upcoming plays is quite process. First, she "thinks about an individuals experience over their four years, I try and think of eight plays that would be different over the four years," she says, "and I try and choose a play that has a lot of cast roles, so that more kids can be involved."
Second, she finds scripts online from companies that produce plays, and reads a few pages, and if "something tugs as my heart," they she will order the scripts, with the previous plays profits, sometimes not even reading them at all. Last year, she ordered 100 scripts.
"Depending on who your character is, and how far along we are in the process, in the beginning of the production we practice about six hours a week, but when it come to the end you can find us here about 18-20 hours week," says sophomore Amelia Carey.
Once things with the play got busier, she needed to manage her time better, she realized.
"It gets harder, but I try use my study halls well, and any in class time we have to work. I also work hard in any time that I can find at home," Carey says.
One challenge that Markano faces with these plays is "time, it's always tricky, and coordinating all the people who are involved in multiple activities. Another thing is just getting it all done on time," she says.
But, seeing the process and the moment the whole show "clicks" or comes together, she says, is her favorite part.
One piece of advice that Carey would give to freshman who are in their first year apart of the play would be, don't be nervous about fitting in, because "despite how cheesy it sounds, we really become a family throughout the course of the show."
This will be her third play at AHS, Carey's favorite play is the one that was produced last winter, Our Town, because of the "beautiful story line, and and because it was my first play here, one that I will never forget."
Markano, on the other hand, can't pick her favorite production, but she can pick her favorite genre. She says she "loves" historical dramas, and has a "penchant" for them, productions like Radium Girls, based on a story which takes place in the early 1900s.
"I love recreating a world on stage, I love getting props and costumes that are authentic to the time period, even if the audience doesn't seem them."