Prom on Students' Minds as They Vote for 2018's Theme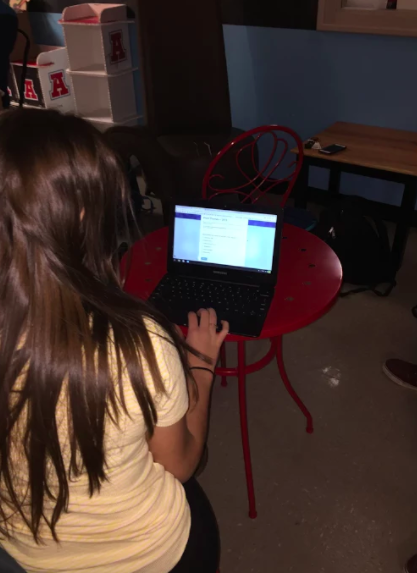 During the week of January 8th, Arrowhead juniors and seniors were urged by Student Senate to provide input on this year's prom theme. Student Senate did this by writing "Vote for prom theme on the AHS website" on the whiteboards around Arrowhead. On the school website, there then was a link on the homepage that would take users directly to the poll.
This year, students were able to pick from six different themes. These themes consisted of Enchanted Forest, Arabian Nights, Under the stars/Galaxy, Vintage Circus, Around the World, and Masquerade.
Student Senate President Addie Siepman says themes were chosen by the Student Senate executive board. She says having a theme is important because it gives students something to look forward to, and it gives Student Senate a basis to decorate the venue.
Ariana Stadler, a senior at Arrowhead, said, "This year I voted for the Enchanted Forest because I think the decorations will look cool and I liked this theme best."
Arrowhead's 2018 prom will be on April 28th at the Country Springs Hotel. Prom is open to only juniors and seniors. Arrowhead's past prom themes have include Yule Ball in 2017 and Wizard of Oz in 2016.
Siepman says that more information on prom will be released as the date approaches. This information will include a schedule, ticket prices, food choices, and more information overall.
Siepman also say that Student Senate will most likely release the most voted prom theme by the end of next week, January 19th. The theme will be announced over the loudspeaker, and by word of mouth.
Mare Banholzer, a senior at Arrowhead, said, "I'm graduating early and going out of the country, so I have to miss prom. I really wish I could fly home. It was so fun last year."
Siepman also said Prom Committees have been chosen. They include foyer decor, table decor, and ticket sales.
"We usually get over 500 students in attendance so there is a lot to prepare to make sure everyone has a good time," says Siepman.
According to Bustle, a lifestyle blog, Prom has been a tradition in high school since the early 1900s. Prom, which is short for promenade is "the formal, introductory parading of guests at a party," says the website. It wasn't until the 1930s that Prom was as popular throughout the US as it is today. To read the full article please visit "The history of prom: Where did this weird tradition come from?"