Arrowhead Students Lend an Ear to More Hip Hop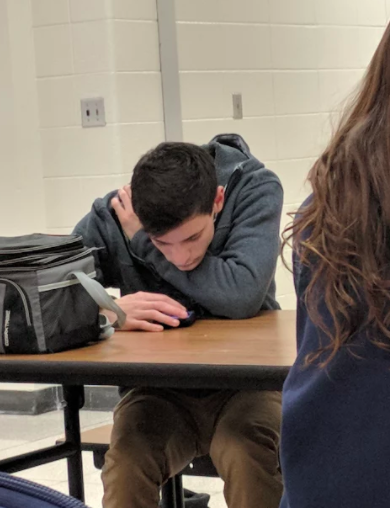 In the first place spot on the HotnewHipHop top 100 song list is "Squad (Firearm)" by Playboi Carti and Lil Uzi Vert which has them describing what their group is up to: "I'm with the squad, I'm with the squad."
"Very enjoyable," said Arrowhead senior Eli Orendorf.
"I can't wait for their collaborative tape," said Arrowhead senior LJ McMullen.
Coming in second is "I'm Not Racist" by Joyner Lucas which is about the disconnect between white and black people in the United States: "I see a black man aiming his gun, but I'd rather see a black man claiming his son."
"I like how he raps from both sides," said McMullen.
"Interesting statements," said Orendorf.
"1000" by N.E.R.D. featuring Future is number three and it's about how becoming rich has improved their future: "My girl don't wear shoes unless they cost over a thousand, brand new coupe cost couple hundred thousand."
"Future comes through solid again," said Arrowhead senior Jackie Giorgi.
"The beat is so bouncy and interesting," said Arrowhead senior Brody Lemay.
In the fourth spot is "Gucci Gang (Remix)" by Joyner Lucas and has him criticizing the subject matter of his contemporaries: "All you new rappers don't be talking about anything except doing drugs, wonder how you got a name."
"His remix is actually pretty good," said Lemay.
"I like his wordplay," said Giorgi.
Coming in fifth is "Glory Bridge" by Chief Keef featuring A Boogie Wit Da Hoodie which has them describing their luxurious lifestyle: "I'll pull up in all red, 30,000 on a rollie."
"Super smooth," said Arrowhead senior Caylen Berg.
"These two have some serious chemistry," said Arrowhead senior Jeff Holtz.
"Dark Knight Dummo" by Trippie Redd featuring Travis Scott is number six and includes what deadly things they're up to: "I'll chop off your arms, steady causing havoc."
"The vibe of this song is so brutal," said Holtz.
"Interesting combination," said Berg.
Miguel holds the number seven spot with his song "Come Through and Chill" featuring J. Cole and Saleem Remi. This song has all three of them waiting on a girl to show up at their place: "I was counting down the days, been more patient than a Browns fan."
"It's real laidback," said Arrowhead senior Caley Susitti.
"The guitar is relaxing," said Arrowhead senior Zach Moncrief.
In the number eight spot is "Sirens" by Chris Brown which has him dealing with
the discrimination from being pulled over: "Taking us back to prison, yeah we back to slaving."
"Chris Brown always delivers with the smoothness," said Moncrief.
"Solid subject matter too," said Susitti.
Coming in the number nine spot is "Rappers" by Nipsey Hussle which has him
describing how he lives the life other rappers talk about: "Thirty-two extendos in my mac, spend a thousand on some tees up at saks."
"I like the old-school beat," said Arrowhead senior Megan Morrow.
"Nipsey is pretty good," said Arrowhead senior Jaxson Carr.
Number ten is "Codeine Dreaming" by Kodak Black featuring Lil Wayne. This song has both of them describing the euphoric effects of abusing prescription cough syrup: "I feel like Jimmy Neutron, how I blast off on a verse."
"This song is spacey and enjoyable," said Morrow.
"Kodak and Wayne's chemistry is amazing," said Carr.