Exciting Varsity Girls Basketball Season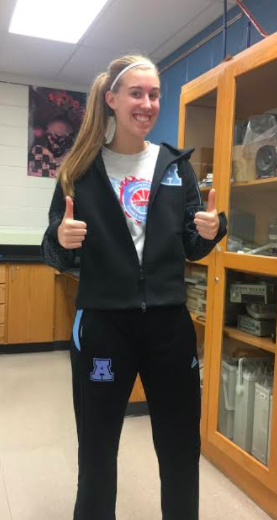 Hang on for a minute...we're trying to find some more stories you might like.
The Arrowhead girls varsity basketball team has a 2-1 win loss rate this season. They have a game this Friday, December 1st, against Kettle Moraine, at Kettle Moraine in Wales, Wisconsin at 7:00pm.
The season recently started, but they have been practicing throughout the summer during summer conditioning that the girls are required to participate in. They had open gyms for the girls to play and practicing throughout the start of the year.
According to the AHS varsity girls website, "The goal is that all coaches, managers and players in our program will work together to create an experience that everyone will benefit from for the rest of their lives."
#32 AHS girls varsity basketball post, Lauren With says, "I likes the girls basketball program has to offer, I've made a lot of good friends and I think it's really great."
Learning life lessons other than having fun is one of their main priorities, according to the Arrowhead website: "We will do this by teaching young people values and lifelong skill such as accountability, trust, community, acceptance of a role, persistence, leadership, confidence, persistence and performing under pressure."
With says, "The season should be a good one, we've one two games and lost one, the two we won at were really good and successful, we scored a lot."
With says, "We have many strengths but we still have many weaknesses that we need to work on. Our strengths are shooting and our defense definitely is what helps us win our games, I think out weaknesses are not passing the ball and not passing it enough, and also being more of a team."
#30 AHS girls varsity basketball post Abby Bergman says, "I hope this season is a good one and I hope to have fun along the way."
Bergman says, "We have put in so much work not just during the season but throughout the year as well. It takes a lot of time and effort to commit to a team like this."
Their coaches this season are head coach Rick Witte, and assistant coach Cheryl Bonlender.
Practices this year started in November and are normally six days a week depending on if there's a game and or other events.
Bergman says "I am most excited to see how far we will go and grow as a team, we focus a lot of our time on keeping this team together for as long as possible so I'm excited to see how long we will stay together which will be longer if we win in the playoffs."
There are 22 games scheduled this season but depending on how far ASH makes it in the playoffs or if they make it to state, there would be additional games.