Arrowhead Students Indulge in Rap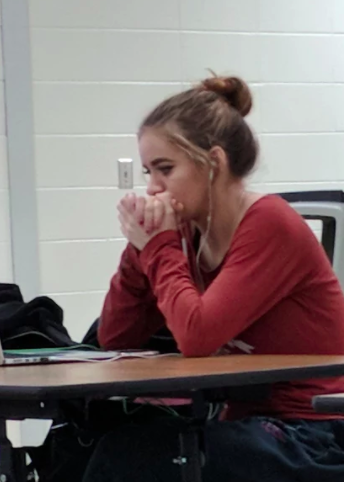 In the first place spot on the HotnewHipHop top 100 song list is "Codeine Dreaming" by Kodak Black featuring Lil Wayne. This song has both of them describing the euphoric effects of prescription cough syrup: "I feel like Jimmy Neutron, how I blast off on a verse."
"This song is spacey and enjoyable," said Arrowhead senior Megan Morrow.
"Kodak and Wayne's chemistry is amazing," said Arrowhead senior Jaxson Carr.
"The Oracle" by Mase is in the second spot and serves as a diss-track against fellow rapper Cam'Ron: "You really not that fly, you really not that guy."
"I haven't heard him before but he definitely knows how to rap," said Carr.
"Some of these lyrics are just brutal," said Morrow.
In the third spot is "Birmingham" by Bryson Tiller which has him bragging about recent accomplishments: "I ran up on my stats, you gon have to match that."
"I like how the beat bounces back and forth," said Arrowhead senior Sophie Boler.
"He really makes a name for himself with this," said Arrowhead senior Natalie Frey.
Coming in at number four is "Dinner Time" by Cam'ron which serves as a diss-track against fellow rapper Mase: "I used to give you all my clothes, remember you was bummy."
"The quality is really bad," said Boler.
"I feel like nothing even rhymed," said Frey.
In the number five spot is "201519971800" by Kodak Black which has a haunting piano in the background which fits the subject matter: "I hope you ain't nothing like my old friends or any other women that I had."
"He sounds vulnerable and introspective," said Arrowhead senior Becca Cinelli.
"I like how in-depth he goes on his personal life," said Arrowhead senior Shelby Lanser.
The number six spot goes to "Checc" by Dave East featuring Offset which has both of them describing their wealthy and lavish lifestyle: "A lot of jewelery, I look like a check."
"Super catchy, I like it," said Lanser.
"Offset's verse fits perfect," said Cinelli.
Miguel holds the number seven spot with his song "Come Through and Chill" featuring J. Cole and Saleem Remi. This song has all three of them waiting on a girl to show up at their place: "I was counting down the days, been more patient than a Browns fan."
"It's real laidback," said Arrowhead senior Caley Susitti.
"The guitar is relaxing," said Arrowhead senior Zach Moncrief.
In the number eight spot is "Yo Pi'erre!" by Pi'erre Bourne featuring Playboi Carti which has them discussing their newfound fame: "I ain't going nowhere, you should get to know Pi'erre."
"Makes me want to party," said Moncrief.
"Carti and Pi'erre are exciting on this," said Susitti.
Coming in number nine is "Still Think I'm Nothing" by 50 Cent featuring Jeremih which has them both explaining their rags to riches story: "They used to tell me I wouldn't be nothing, now Lamborghinis and Porsches we stunting."
"50 Cent still got that hard-hitting flow," said Arrowhead senior Megan Peterson.
"Impressive performance from both," said Arrowhead senior Tori Dahl.
Number ten goes to "Ill Mind of Hopsin 9" by Hopsin which has him talking to his newborn son he hasn't met: "I really wish I knew you, I'm your father you'll probably never be introduced to."
"Actually catchy despite subject matter," said Dahl.
"Sad story but I like the song," said Peterson.