Arrowhead Students react to Meek Mill's Prison Sentence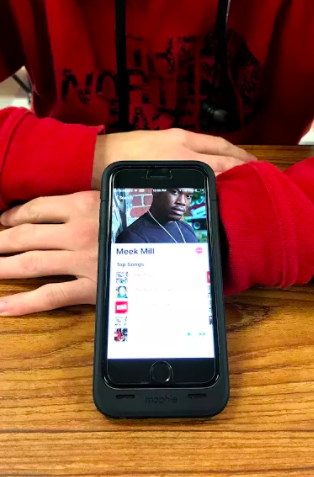 Hang on for a minute...we're trying to find some more stories you might like.
The 30 year old rapper who goes by the name "Meek Mill" entered the Pennsylvania State Correctional Institution at Graterford in Montgomery County, on Wednesday November 7, two days after a judge sentenced him to a minimum sentence of at least two years according to  Billboard.com. He was arrested for violating probation in a 2008 drug and gun case by getting arrested on two different occasions this year.
The first arrest was made on March 16, 2017, at St. Louis Lambert International Airport. He was charged with assualt. According to TMZ, the rapper was charged with misdemeanor assault following an altercation with an airport employee who was seeking to get a photo of Mill. Airport police were called the scene where Mill and two airport employees were given summonses to appear in court because of the arrest.
His second arrest was then made on August 18, 2017, and Meek Mill was arrested in New York City on Thursday night for reckless endangerment, after the NYPD caught Meek Mill and his associates riding dirt bikes illegally per TMZ. They were riding the dirt bikes in Inwood, New York, in a since-deleted video of them on Instagram. According to the TMZ, Meek Mill violated many different laws including traffic laws by riding the dirt bike without a helmet and popping wheelies.
Arrowhead senior Izayah Tomsic said, "I heard about his first two arrests and they were pretty questionable to say the least. Like they really went through all the work to arrest him over a social media post. But then again that just shows you that don't put stupid things on social media I guess."
During the most recent trial the judge went on to say, "I gave you break after break, and you basically just thumbed your nose at this court." The news site "Philly" reports of her in-court statement to Williams after the sentencing. "Then I'll be done with you."
Arrowhead senior Salvatore Ciardo said, "I really enjoy Meek Mill's music and seeing him go to prison for 2 years or more is ridiculous for just violating probation. I believe the judge is being very biased against him and this is very unjust."
Celebrities from Kevin Hart to Isaiah Thomas and Jay-Z all showed support along with many more people to Meek Mill's prison sentence on social media and an unknown person started a petition to reduce Meek Mill's sentence. The petition was named "Somebody Save Meek Mill" on the website change.org and the petition has received 150,000 supporters who signed in within just two days of it being available.
Jay-Z said on Twitter,  "the sentence is very unjust and heavy handed."
Arrowhead senior Jordan Liempeck said, "I don't really listen to Meek Mill often but I have definitely heard of him before and how much he is an influence on people. Violating a small probation that lasted 11 years shouldn't put you away for two years in prison."
Liempeck also said, "As soon as I heard about the petition to reduce his sentence I signed it right away because I know he doesn't deserve this."
Under the sentence, Mill wouldn't be eligible for parole for at least two years. Sending him to jail, he reportedly said during the hearing, would kill his music career.