Arrowhead Students Participate in Winter Sports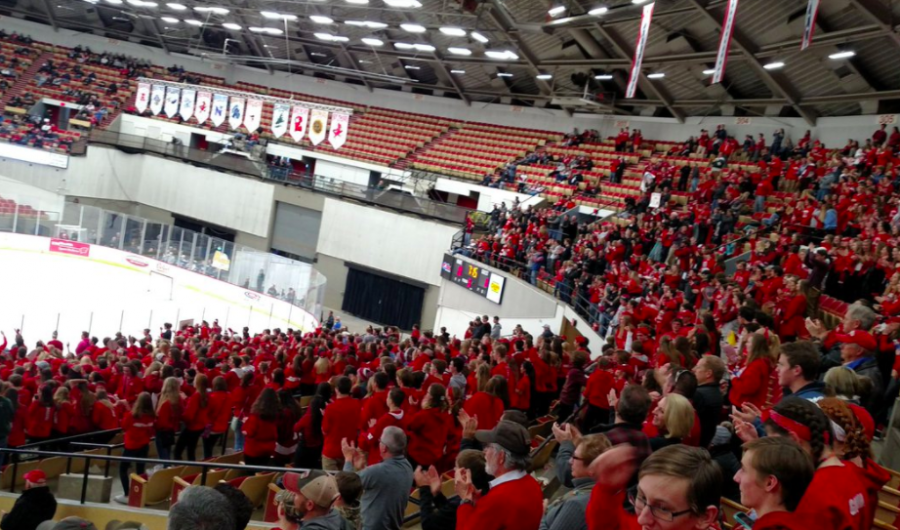 Arrowhead is home to over 20 sports, and eight of these sports are winter sports. The winter sports Arrowhead has to offer includes boys and girls basketball, boys and girls ice hockey, girls gymnastics, wrestling, and alpine skiing.Although a majority of tryouts have been held, all sports are in need of spectators and fans.
Arrowhead boys basketball is composed of four teams; Varsity, JV, Freshman Red and Freshman Blue. While practice for these teams goes throughout November, the first Varsity game is November 24th and the first home game is December 1st at 7:00 against Kettle Moraine. The game on December 1st is sponsored by Arrowhead DECA and will have Hollywood theme.
Arrowhead girls Varsity basketball will kick off their season on November 17th and their first home game is December 8th at 7:00 against Oconomowoc. This game will also be sponsored by Arrowhead DECA and will have a Disney Christmas theme.
Arrowhead offers both boys and girls hockey teams. These teams both practice and play at the Mullet Center located on Arrowhead's Campus.
Boys ice hockey will begin their season on November 16th with their first scrimmage at the Mullet Center. Girls ice hockey will begin their season on Friday, November 24th with multiple games at the Mullet Center.
Arrowhead senior Fran Penny, "I love playing hockey for Arrowhead. It's my favorite sport, and I'm so grateful for the opportunities it has given me."
Arrowhead boys swimming and diving also is a winter sport, and begins their season in November. Both the swim and dive teams will have their first swim meet on Saturday, December 9th at 10:30 am at Brookfield East High School.
Girls Gymnastics for Arrowhead is composed of both a JV and Varsity team, who compete in four events. These events are vault, uneven bars, balance beam, and a floor exercise. Their first meet is December 7th beginning at 6:30 pm at Waukesha West.
Arrowhead's wrestling team will begin their season on December 2nd at the Slinger Invite for varsity, JV, and for freshmen.
Arrowhead also has an Alpine Skiing team. Races are held at various places such as Holy Hill, Alpine Valley, Little Switz, and Sunburst. The first girls and boys scrimmage is December 16th at Little Switz. To find more information and to see where and when the races take place visit the arrowhead website.
Arrowhead student and member of the Ski team Addie Siepman says "Through skiing, I have made someone of my closest friends, and some of my favorite memories."
For more informaton on Arrowheads winter sports, to see their scedules, and to get involved please visit http://www.arrowheadschools.org/activities/wintersports.cfm.