Football Season Nears its End—How are Seniors Handling it?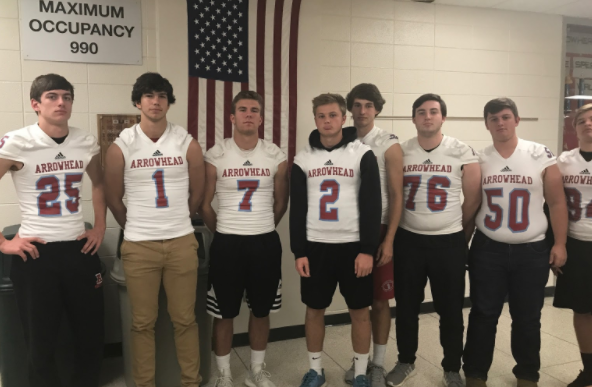 Hang on for a minute...we're trying to find some more stories you might like.
Senior year and football season go together like Christmas cookies and milk; peanut butter and jelly; smilies and the word 'like.' For Arrowhead seniors, dressing up for each game's theme, cheering on their fellow star athletes and friends, and sitting under those "Friday night lights" is considered the pinnacle of the high school experience.  So as the last season game rolls around, seniors seemed to be bummed out, for no one can predict the outcome of the last regular season game this Friday, October 13th. If the Arrowhead team does not win, then the game on the 13th will be their final one.
The seniors' last season comes to an end, students seem to be quite devastated for it to not only be Arrowhead senior's last year, but their last season game too. This is now apparent by seniors on Twitter, Instagram and in the classroom.
Senior Maddy Anderson says, "I've been dancing for the Arrowhead dance team, the Hawkettes, since freshman year. I've been to almost every single game since I started high school. It's going to be so sad when it comes to an end. Every game was fun and filled with excitement. It is something my friends, and (dance) teammates will miss a lot. I might even cry at the game this Friday, who knows?!"  
Ever since last Friday, October sixth, there have been one or more posts regarding Arrowhead football popping up on Instagram every single day. On Instagram, seniors have been posting about their "first of lasts" for senior year, referencing to their last home game. Senior Erica Schlise, or @ericaschlise, posted a photo saying "rain or shine, I wouldn't miss the last hoco game."
Arrowhead will take on Waukesha North this Friday at North's field. As of right now, Arrowhead is number four out of the nine schools in the Classic Eight Conference,, according to arrowheadfootball.com. Waukesha North is sixth, giving Arrowhead some advantage for the game. Arrowhead has won four games and lost three, while North has won three and lost four.
Tony DiPiazzi, a senior at North, says, "North is going to win. Our defense is so much better than your offense."
This contradicts what many of the Arrowhead team has been saying.
Robert Tetzlaff, an Arrowhead senior running back, thinks the boys will have no problem defeating the opposing team.
"There's no way we are going to lose. If they  lose, it is Arrowhead's last game. We don't want to let our student section down, especially the seniors. They have been the best student section we could ask for and really hype us up before games. We know how much the girls love these games, because they post about them like everyday. It builds so much pressure on us."
While this may seem like quite the exaggeration, it is in fact true.
Senior Jordyn Gritzmacher has been dating senior wide-receiver Mitchell Beres since freshman year.
She says, "It's going to be so weird to never wear his jersey again. After doing it at every game for four years, home or away, I know it will become one of my biggest memories of high school."
"It'll definitely be a sad day for everyone," Beres says.
If Arrowhead wins this game, it will put them at a number one or number two seed in the playoffs, giving them the opportunity to play one of the teams in the bottom of the conference. This will then give Arrowhead a higher chance to win the game, bringing them closer to attending the state championship and further from the end of the season.
At Arrowhead, it has always been a tradition for students to get excited about the State game. This is because Arrowhead has a long history of making it to state. Arrowhead overall has gone to state 13 times going back to 1993. They won 6 of these 11 games.
2015 was the first time in three years the football team failed to make it to state.
This winning streak has brought an ongoing tradition students hope to carry out. Last year when Arrowhead did not make it to state, students were devastated.
"I feel like Arrowhead has been going to state since I can remember. When I was an underclassmen, I saw the upperclassmen cheering on our team at state. I remember just not being able to wait to be in their spots and a senior," says Megan Peterson, a varsity basketball player and senior. "Time really flies by and the past four years have been full of great memories."
Even though the football season is coming to an end and students are devastated, there is a small rumble of chatter building up about the other upcoming sport seasons.
"I am so psyched for hockey to start. Me and the boys are looking forward to flying all the way to the top and going to state again," says senior and varsity hockey player Jaxon Carr.
So students, don't worry. We have a whole school year of state games ahead!