Arrowhead Students Try Apple's Newest Products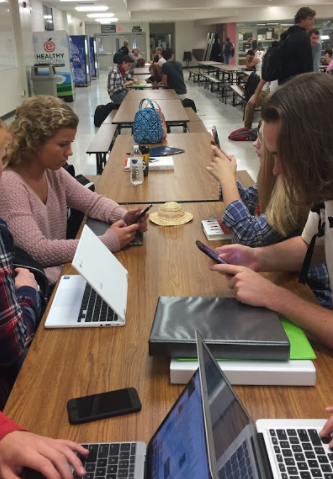 After Apple announced the release of two new products, the iPhone 8 and the iPhone X, on September 12th, many Arrowhead students are in eager pursuit to obtain one of these new phones.
The iPhone 8 went on sale September 22nd and pricing begins at $699 for the 4.7 inch display and the 5.5 inch display begins at $799. The iPhone X is available for pre order starring October 27th and the iPhone will be released on November 3rd according to Apple.  The iPhone X will have a starting price for $999 for the 5.8 inch display.
Arrowhead Senior Aristotle Maxwell says, "I'm counting down the days til the X is released"
The biggest and newest thing that is offered with both the iPhone 8 and the iPhone 8 is wireless charging. This will allow the owner of the phone to set their phone down on a wireless charging station without having to fuss around with cords.
Another thing featured on both phones is a glass display for the whole phone. In earlier models, the back was composed of aluminum. Also according to Apple, the glass is just as protective as the aluminum. The two phones are also dust and water resistant.
Mising on these new models are a headphone jack. Headphones will be able to be used by using an adapter, bluetooth headphones, or the compatible headphones for the phone which will be inserted into the charging port.
Another thing missing that is on the iPhone X is a home button. The home buttons sole purpose is for touch id, according to apple. The iPhone X will get rid of tough id and implement a new system Face id.
" I think it's crazy you can use your face to unlock the phone… it's one of the reasons I'm excited to get the X." says Aristotle.
The two phones differ in not just the things above but the iPhone X will be the first apple product to use a true tone OLED screen according to Forbes.com. Before now iPhone screens have used LCD screens. The difference between the two screens is that the OLED screen will deliver more precision, more resolution, and more power savings.
Depending on the size and type of phone, there will be a change in camera. The 4.7 inch iphone camera will only have one camera. The iPhone X and 8 plus will have a dual camera though. With the greater price tag the duel camera will enable portrait mode, 2X optical zoom, and optical image stabilization, according to Forbes.
Josie Schroeder, an Arrowhead senior, who recently purchased the iPhone 8 plus said, "Honestly, one of the main reasons I wanted the iPhone 8 plus was because of its camera…believe me it delivers."